Estimated read time: 2-3 minutes
This archived news story is available only for your personal, non-commercial use. Information in the story may be outdated or superseded by additional information. Reading or replaying the story in its archived form does not constitute a republication of the story.
Samantha Hayes ReportingHe devoted his life to saving other people, tonight those who knew and loved a local firefighter cope with a tremendous loss.
Lance Jacobs, David's Brother: "He was one of those kinds of people that just always was out to help other people."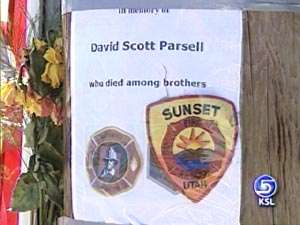 David Parsell was killed while riding his motorcycle along Main Street in Sunset. Apparently the drivers of two other cars were engaging in some road rage when Parsell was hit. Prosecutors may file charges in the case, but for now his family and friends are left to deal with the loss.
As is it with many firefighters, David Parsell aspired to take on the same role as his father. He also leaves behind his three year old son, who many say was following in his footsteps. David Parsell loved his job. He saved lives. And in the spot where his life ended, a sign reads, 'He died among brothers.' In the firehouse his gear still hangs in its designated place in the ready room..
Captain Jay Bell: "I just got through being an honor guard right in the head of his casket over there, and that was tough."
David Parsell volunteered in the Farmington Fire Department and in Kaysville where he worked side by side with Captain Jay Bell.
Cpt Jay Bell: "We didn't have to train him, already trained. And he was gun-ho. He'd do anything."
And firefighters here have known David Parsell nearly his whole life. They say, as a young boy he used to like to ride with his dad in the fire trucks on the fourth of July."
Lance Jacobs: "He was following right in his dad's footsteps, every step of the way."
His father, Scott Parsell, has been in the Kaysville fire department for 21 years.
Lance Jacobs: "It's been really rough. He was a big part of all of our lives. Really, to his father, he was the world."
Often, they would vacation together with other firefighters, like Captain Bell who watched Doug Parsell grow up.
Captain Bell: "We used to go jet skiing together, camping, snowmobiling together."
Which makes it that much more difficult to try and say goodbye.
The funeral service will be held Wednesday. Both Farmington and Kaysville fire departments will be participating in what will be a very emotional procession.
×