Estimated read time: 4-5 minutes
This archived news story is available only for your personal, non-commercial use. Information in the story may be outdated or superseded by additional information. Reading or replaying the story in its archived form does not constitute a republication of the story.
John Daley and Richard Piatt ReportingMayor Nancy Workman, Salt Lake County: "I'm surprised and shocked because there was nothing there. We've done nothing wrong."
The panel investigating the Salt Lake County hiring scandal involving Mayor Nancy Workman and her daughter finds evidence to support criminal counts. It means major legal trouble and major political trouble tonight for Salt Lake County Mayor Nancy Workman.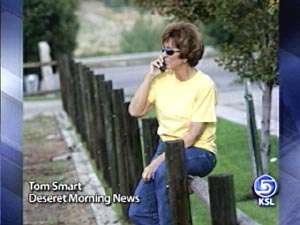 Workman's administration has been rocked by a series of scandals and today a long-awaited report paves the way for criminal charges against her.
No one was sure exactly what the bipartisan panel would find. But today they said there is credible evidence against the Mayor to sustain two felony charges of misusing public monies.
For weeks Mayor Nancy Workman has been under a cloud, awaiting word about a criminal probe into questionable hiring practices. Today she got the news, on horseback while being interviewed by a Deseret Morning News reporter for a campaign profile. He described her as "stunned."
Late this afternoon the Mayor commented on the possibility of facing two felony charges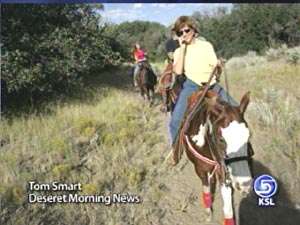 Nancy Workman: "What I did was the right thing. The procedure may have needed some different packing, but helping the Boys and Girls Club is absolutely in the realm of county business."
Workman has been under investigation for personally signing off on $17,000 in Health Department funds to hire a bookkeeper at the nonprofit South Valley Boys and Girls Club. That employee worked directly for her daughter, Aisza, the chief financial officer.
The panel of four district attorneys offices looking into the case found sufficient credible evidence against Mayor Workman to sustain two criminal counts of Misusing Public Monies -- one a second degree felony, one a third degree felony. The group believes there may be also violations of sections of the Utah Local Health Department Act.
Kay Bryson, Utah County Attorney: "We have spent many hours looking at the evidence that was provided to us, sending the investigator back to re-interview and to acquire additional documents for us. We have spent a great deal of time on this and it's fair to say we believe an offense was committed."
Today the Mayor's daughter explained how the whole controversy came about, echoing what her mother said two months ago.
Aisza Wilde: "I ask for money, I ask for people, I ask for volunteers, I ask for in kind donations. We are struggling." Question: So you did ask your mom for help? "I mentioned that we do need help. I think she worked it out with someone else though."
When news of the investigation first broke, fellow Republicans rallied around Workman and blasted District Attorney David Yocom, a Democrat--calling it "outrageous" and a "political witch hunt."
Joe Cannon, Republican Party Chairman, July 2: "I don't know when Joe McCarthy died and when David Yocom was born. But I'm beginning to believe in reincarnation here."
But to screen the case Yocom stepped aside and appointed district attorneys from Weber, Summit, Davis and Utah Counties--two Democrats and two Republicans. The head of the panel denies any politics are at play.
Kay Bryson, (R) Utah County Attorney: "I don't believe it's political at all. I can tell you at times I've been accused of the same thing. It isn't true of me and I don't believe it's true of Mr. Yocom."
Our calls to leaders of the state Republican Party were not returned today; they're in New York for their convention. Meantime, Nancy Workman is in a tough reelection fight as felony charges would force her to take a paid leave of absence.
From a political perspective, the pending charges against Mayor Workman could be serious. The timing of this legal trouble would be worse only if it came closer to Election Day.
As it is, the Mayor's image problems are only getting harder to control. And that means an obvious advantage to her political opponents. Especially Democrat Peter Corroon, who is gained momentum in a recent poll taken by the Exoro Group. Still, Corroon is being cautious about the news, focusing on his message, not taking delight in Workman's situation.
Peter Corroon, (D) Candidate For Salt Lake County Mayor: "Our focus is on what our message is and what our campaign is about and not focus on mayor Workman, her problems and criminal indictments."
Is it over for the Mayor? Not yet. At this point, she will stay on the ballot, even if she steps down on paid leave while her legal troubles play out. That could mean Republicans would turn to ex-Congressman Merrill Cook, who is running as an independent candidate.
Merrill Cook, Candidate For County Mayor: "I think people want a more conservative approach, especially clear out this culture of privilege - where we've got these expensive cars, ghost employees, we've got a lot of back-scratching."
There's no question, Nancy Workman has a battle on her hands both politically and legally.
×
Most recent Utah stories