Estimated read time: 1-2 minutes
This archived news story is available only for your personal, non-commercial use. Information in the story may be outdated or superseded by additional information. Reading or replaying the story in its archived form does not constitute a republication of the story.
Alex Cabrero ReportingYesterday we brought you the story of a 19-year old woman looking for her birth parents. One viewer saw our story and knew right away how to help her.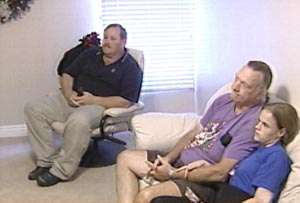 After months of searching Jana Morris is now very close to getting what she's been dreaming of, a face-to-face meeting with the woman who gave birth to her. And it's closer now thanks to a man who saw our story last night and recognized her, even 19 years later.
Mike Peterson, Friend of Biological Parents: "Kind of reminded me of seeing her there with all the breathing tubes and everything else."
Mike Peterson couldn't believe it when he saw Jana Morris on his TV screen. For all he knew Jana shouldn't have been alive, at least that's what doctors told her biological parents when she was born.
Peterson was close friends with Jana's birth parents and helped them make one of the toughest decisions of their lives, to not pull the breathing tubes keeping Jana alive and instead put her up for adoption.
Jana was born four months premature, had cerebral palsy, and would need braces to help her walk, but now she's doing well. It's likely her biological parents have no idea.
Jana Morris: "They could've just cut the tube, let me die, and walk away and just say... Because my mom apparently had multiple miscarriages, she could've said that's another one I lost."
Last he knew, Peterson says Jana's birth mother remarried and is still in Salt Lake City. Her birth father, he thought, lives somewhere in Aspen, Colorado.
This Friday, a judge will decide on whether to release her adoption records. But at least for now, she has a couple of names and direction.
×