Estimated read time: 2-3 minutes
This archived news story is available only for your personal, non-commercial use. Information in the story may be outdated or superseded by additional information. Reading or replaying the story in its archived form does not constitute a republication of the story.
Jed Boal ReportingIf you love dogs and want to see an event that's taking off in popularity, you might want to head out to Soldier Hollow during the holiday weekend to watch the sport of sheepdog trials. It's a sport rooted in a lot of hard work in Scotland.
Sheepdogs are tireless herders and can tackle the job of several ranchers on horseback. For that reason, it's simply fascinating to watch them move a herd of sheep at will.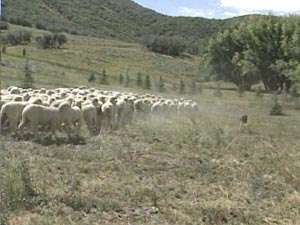 For more than a decade Julie Matthews and her border collie, Moss, have herded sheep for work and sport. Moss earned second place at last year's national championships and responds to commands as quickly as Matthews whistles them.
Julie Matthews: "The commands give you the ability to finesse the movement of the sheep."
The New Zealand native says that's the objective in sheepdog trials. In competition each dog and handler must steer five sheep through the course. They gather the sheep, work them across the hill, and herd them into a pen. Moss is a trained predator in action.
Julie Matthews: "A dog like Moss, in his heyday read my mind. That's where the beauty comes into play."
Moss and Matthews are a precision team. They anticipate each other's moves and moss is genetically driven to do the work.
Julie Matthews: "The thing with the border collie is they're bred for generations to do this. They want to work livestock."
The Soldier Hollow Classic Sheepdog Championship is already one of the premier trials in the world, after a phenomenal debut last year.
Mark Petersen, Soldier Hollow Sheepdog Classic Director: "Utah is a state of dog lovers. This is the ultimate competition."
Fifty of the world's top sheepdogs will do their work where Nordic skiers thrilled the crowds during the Olympics.
Mark Petersen, Soldier Hollow Sheepdog Classic Director: "This bowl acts like a grand stage and elevates the competition for the handlers, judges and spectators."
The Swiss Days festival is also going on in Midway this weekend, so there's a lot of activity in Heber Valley.
×
Most recent Utah stories