Estimated read time: 2-3 minutes
This archived news story is available only for your personal, non-commercial use. Information in the story may be outdated or superseded by additional information. Reading or replaying the story in its archived form does not constitute a republication of the story.
John Daley ReportingFor years it's been a mystery, just who raped a number of women near the Jordan River Parkway? Now police say they've got their man.
Salt Lake City Police say they've nabbed the man known as the "Parkway Rapist." Thanks to a DNA match police believe they've identified the suspect responsible for more than a dozen rapes.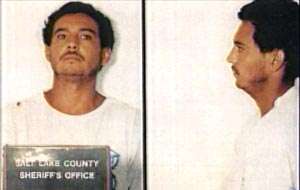 These rapes all happened between March of 1990 and July of 1993 in an area near the Jordan River Parkway on Salt Lake's west side. Until now--until DNA technology provided a link--police have never been able to track down the perpetrator. For more than a decade it's been a mystery.
Thirteen victims of forcible or attempted rape and aggravated kidnapping, most in their teens, all apparently by the same perpetrator. This March a break--a positive DNA match provides a link to 40 year-old Rudy Romero, currently behind bars on aggravated robbery charges.
Police say DNA links Romero to evidence from five of these cases. They believe Romero is likely responsible for nine similar rapes for which there was no forensic evidence.
Police recently told the victims they've solved the case. The women, some as young as nine at the time, expressed a range of emotions.
Det. Cathy Schoney, Salt Lake City Police: "The reaction has been from being absolutely happy to surprised to becoming very, very emotional, very upset. This has brought back some things that they'd just assume left way back in the past."
Trouble is the statue of limitations has run out for prosecution of Romero, who is up for parole. Salt Lake Police are appealing to the Parole Board not to release him.
Rick Dinse, Salt Lake City Police Chief: "This is a very difficult situation for them to be in, I'm sure. But it's one that clearly needs to be addressed, and if you ask our opinion, they should keep him in jail."
Major Stuart Smith, Utah Bureau of Forensic Services: "The Salt Lake Police Department, the Salt Lake County Sheriff's Office and the State of Utah would like to see this considered as an aggravating factor keeping him in prison on an aggravated robbery. We don't think he should be out there walking around."
All four of the Salt Lake City DNA matched cases and the other nine were screened with the Salt Lake District Attorney and discussed with the Utah Attorney General's Office and the US Attorney. Due to a four year statute of limitations, which applies to crimes like this, prosecutors have been unable to file charges against Mr. Romero.
×