Estimated read time: 1-2 minutes
This archived news story is available only for your personal, non-commercial use. Information in the story may be outdated or superseded by additional information. Reading or replaying the story in its archived form does not constitute a republication of the story.
Alex Cabrero ReportingAll week long we've been telling you about a young woman's search for her birth mother. Late Thursday night they finally met.
Jana Morris beat cerebral palsy, beat the problems of being born four months premature, and she can walk without braces on her legs. But there was always one thing she wanted to know, and meet -- her biological parents. Well, it seems there is nothing this girl can't accomplish.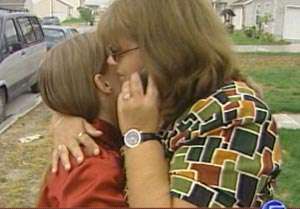 Jana Morris, Found Birth Mother: "We both cried our eyes out. It was completely amazing."
Jana Morris finally found her birth mother, Vicky Richardson. It wasn't easy. Jana traveled here from Florida and had plenty of problems trying to get official documents about her adoption. But after Eyewitness News began telling her story, viewers began calling; and one of them knew exactly where her birth mother was.
Late last night Richardson received a phone call that knocked her down to the couch.
Vicky Richardson: "'I don't know how to tell you this, but I'm Jana.' And because…I thought she was dead all this time. She was put to rest, and she wasn't brought up because that was a past life. We didn't know she existed anymore."
Neither did Jana's birth father who's now living in Colorado. The two spoke on the phone this afternoon for the first time, and he wants to see her as well. And that's not all. Jana found out she is the second of seven children. She knew about an older brother, but never knew she had so many siblings.
This is an amazing story that happened thanks to some of our viewers.
×