Estimated read time: 2-3 minutes
This archived news story is available only for your personal, non-commercial use. Information in the story may be outdated or superseded by additional information. Reading or replaying the story in its archived form does not constitute a republication of the story.
Sandra Yi ReportingThe Utah Highway Patrol says there was only one fatality on state roads, this weekend. But Monday, three separate accidents on Salt Lake County roads sent several people to the hospital.
There was a steady stream of cars on Utah's I-15 all afternoon. That prompted officers to urge caution to motorists.
It's common sense, but on a busy holiday weekend, officers can't remind people enough.
Jerry Byam/ Salt Lake County Sheriff's Office: "Just be careful, buckle up your seatbelts, watch where you're going."
Three separate accidents Monday sent people to the hospital.
In Kearns, a 23-year-old man suffered critical injuries, when he went through the intersection and slammed into a pole. His hand went through the windshield.
Jerry Byam: "He just came through, no breaks until the last second, hit the pole."
Earlier, three people were hurt at 7365 S. Highland Dr. when officers say, the driver of the red car didn't yield on a left turn and hit a jeep. The woman was ejected from her car and dragged a short distance.
And in Holladay, a teenage driver lost control of his car, hit a parked car and a woman walking her dog. The woman was not seriously hurt, but the driver was taken to the hospital in serious condition.
Sgt. Kevin Betteron: "Just a couple more feet and she would have been in front of the vehicle instead of the side of it. You can see the tree over here, it's lucky the vehicle didn't hit the tree, could have been a lot more serious. Very serious as it is, but it could have been a lot worse."
The crashes have authorities urging caution.
Sgt. Kevin Butterton: "Traffic is going to be a little heavier as the holiday winds down. People are going to be coming home now."
The Utah Highway Patrol echoes the thought.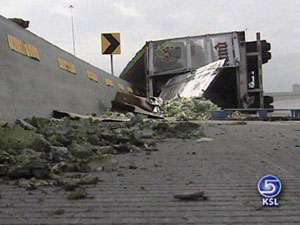 There was only one fatality on the highways this weekend. It happened Saturday on I-80 when a semi took the turn onto southbound I-15 too fast and crashed into the concrete barrier. The driver was a student driver in training and his trainer, who was in the sleeper bed inside, was killed.
But troopers say often aggressive and distracted drivers are the problem. In fact, a survey from 'Drive for Life' shows people value safety first in their vehicles, but say it's harder to come by on the roads.
Motorists rate other drivers' behaviors as the most annoying, behind traffic delays and road construction.
Tom Hicks: "Passing on the right-hand side, slow people in the left-hand lane."
Sgt. Shawn Judd/ Utah Highway Patrol: "It is a common complaint that we hear, of drivers being discourteous, and the brazenness of drivers."
×