Estimated read time: 2-3 minutes
This archived news story is available only for your personal, non-commercial use. Information in the story may be outdated or superseded by additional information. Reading or replaying the story in its archived form does not constitute a republication of the story.
John Hollenhorst ReportingTwo search and rescue incidents over the weekend, one real and one a hoax, have raised the question of whether a popular cave in Utah County should be closed to the public.
It has a silly sounding name: "Nutty Putty Cave". But enthusiasts say it offers one of the best opportunities in the area for amateur spelunking, if you don't mind a tight squeeze.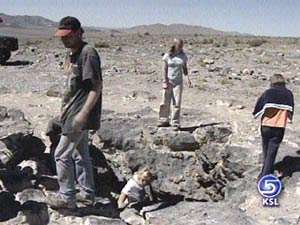 The cave draws a crowd on a holiday to a hilltop west of Utah Lake. A manhole-sized cavity leads to an extensive network of tunnels and caverns. Nutty Putty Cave has gained a reputation as a good place to get stuck because some passageways are a very tight squeeze.
Search and rescue crews are typically called out a half dozen times a year and do full-blown rescues are needed once or twice a year. They rescued a stuck caver two weeks ago and another two days ago. And then last night they went into the cave again, only to find out the latest distress call was a hoax.
Sgt. Spencer Cannon, Utah County Search & Rescue: "You could say no harm, no foul, but when you think about the risks that people take, we've had others get stuck in that cave. And that certainly could happen to one of our rescuers. And there are areas inside that cave where people could be injured."
Sgt. Cannnon says the latest spate of incidents has raised the question of closing the cave.
Laura Rowley, Amateur Caver: "Yeah, because it's a good recreational sport. Something to do when you're not going to school."
Katie Lauritzen, Amateur Caver: "It's not really that dangerous. If you're prepared and you're careful, you're not really going to get hurt."
Sgt. Cannon says rescuers like their work and are eager to rescue people. But Nutty Putty, he says, is becoming frustrating.
×