Estimated read time: 1-2 minutes
This archived news story is available only for your personal, non-commercial use. Information in the story may be outdated or superseded by additional information. Reading or replaying the story in its archived form does not constitute a republication of the story.
(KSL News) A warning for motorcylists following two serious crashes overnight. "Always wear helmets. Obey the speed limits."
Two men were killed after they were thrown from their bikes. Speed may have been a factor in both accidents.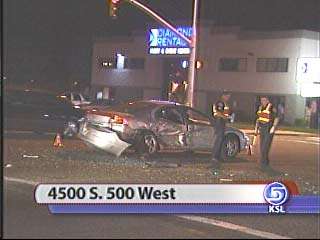 The collisions happened nearly simultaneously in Salt Lake County just before 10 last night.
A man from Murray is pronounced dead at the scene after being hit by a car at 4500 South and 5th West.
Police say the man on the motorcycle was driving north on 500 West when a drvier making a left hand turn onto 45th South plowed into the biker.
The impact threw the motorcyclist 100 feet and spun the car 180 degrees.
Det. Rob Hall/ Murray City Police Dept.: "All the way around. It's a pretty tragic accident and we're just hoping to piece it together to find out exactly what happened."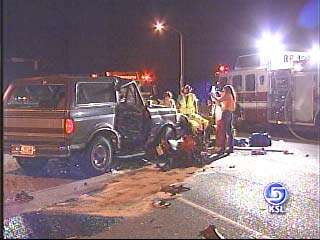 At this point police haven't cited the 18- year- old woman who was behind the wheel of the car. They want to finish the investigation first.
Meantime in Sandy, another accident involving a vehicle and motorcycle.
Police say the driver of the Ford Bronco was about to turn left into a driveway when suddenly it was hit by a biker.
The driver is fine. Christopher Olsen was behind the Bronco at the time. His wife is actually an EMT. She and a nurse performed C-P-R on the motorcyclist until paramedics arrived.
The cyclist was flown to the hospital with critical injuries. He died later at the University of Utah Medical Center.
×