Estimated read time: 2-3 minutes
This archived news story is available only for your personal, non-commercial use. Information in the story may be outdated or superseded by additional information. Reading or replaying the story in its archived form does not constitute a republication of the story.
Ed Yeates ReportingThey've waited, they've watched, they've practiced over and over again what to do. Tomorrow it's really going to happen! The Genesis capsule with its precious and mysterious cargo from outer space is coming back to Earth, and Utah is ready to play the host.
In the language of NASA, all systems are go. Genesis is working perfectly, and barring any complications, tomorrow morning two skilled pilots will snatch the capsule in mid air right over Utah's western desert.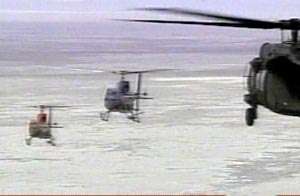 Hitting the Earth's atmosphere over Northwest Oregon at about 25,000 miles per hour, the fiery Genesis capsule will begin slowing and moving towards us. Over the US Army's Dugway Proving Ground a parachute will open.
In what's been this scene in 17 practice runs so far, two helicopters will fly in formation, ready to snag the capsule in mid air. If it hits the ground, the delicate array inside containing a billion billion atoms from the solar wind could shatter like glass. If all goes well, Utah's role in this recovery will become part of space history.
Bob Corwin, Genesis Capsule Recovery Team Chief: "This is the first sample return mission from anywhere beyond the earth since Apollo 17 landed in December of 1972."
The adrenalin will be flowing in pilots Cliff Flemming and Dan Rudert tomorrow, but they say they're ready.
Cliff Flemming: "The pressure of this is a one time chance and there is no take two. With what we know and how we've practiced and been successful in all 17 captures, we feel pretty confident."
If things are not working well aboard Genesis, long before it gets to Utah, NASA can abort the mission. That, everybody hopes, will not happen.
Genesis enters the earth's atmosphere just before 9:00 tomorrow morning. The public can view the capture as it happens at Kingsbury Hall at the U, the Clark Planetarium and the Space Dynamics Lab in Logan.
×