Estimated read time: 3-4 minutes
This archived news story is available only for your personal, non-commercial use. Information in the story may be outdated or superseded by additional information. Reading or replaying the story in its archived form does not constitute a republication of the story.
John Hollenhorst ReportingOne of Utah's most riveting stories in recent years is that of Aron Ralston, the hiker who cut off his own arm to save his life. Friday, NBC's Tom Brokaw gives Ralston's first on-location account of his incredible story in an unusual two-hour "Dateline."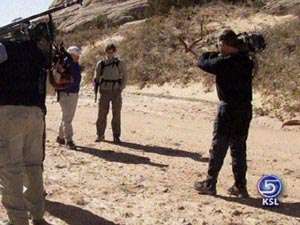 When most people hear what Aron Ralston did to survive, they wonder, 'Could I have done that?' Freelance journalist Paul Thiriot suggests Ralston's character may have answered the question for him.
Paul Thiriot: "Most people would have given up and there's no way he was giving up."
The photographer-producer spent hundreds of hours getting to know Ralston over the last year and half. With Tom Brokaw, he documented Ralston's only return visit to Blue John Canyon, a dark, narrow place where a massive boulder pinned Ralston's arm. He was trapped six days with a half-bottle of water.
Paul Thiriot: "He rationed it and stored his own urine, and ended up using that just to stay alive."
Ralston recounted the awesome decision to cut off his arm with a dull knife.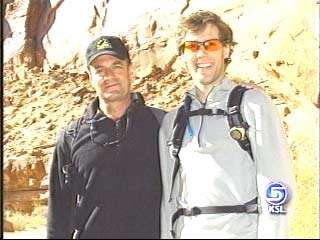 Paul Thiriot: "When he figured out how to break the bones, then he had to cut through two nerves in his arm. And he said it was like putting his arm in molten lava."
It's not generally known that Ralston shot his own home video during the ordeal; it will appear on Dateline for the first time."
Paul Thiriot: "And the beginning of the story is very, very powerful because it starts with Aaron looking into the camera that he's holding himself, and saying goodbye to his mom and dad."
Thiriot says Brokaw himself went to extraordinary lengths to get the story.
Paul Thiriot: "We had to rappel off of a 75 foot cliff. I thought, 'here's a career ender if something happens to him.' But he was, Tom's a great athlete."
Thiriot has become close friends with Ralston on climbing, skiing and speaking tours.
Paul Thiriot: "Not one iota of feeling sorry for himself. Just moved on."
Ralston's not just surviving. He's thriving.
. Tom Brokaw traveled to Bluejohn Canyon with Ralston, and Jed Boal spoke with the NBC anchor this afternoon.
When the story broke a year-and-a half ago it grabbed national attention immediately. The NBC anchor calls it the ultimate Holy Cow story -- everyone wonders how in the world Aron Ralston cut off his arm, and they ask themselves, 'could I do that?'
Aron Ralston is the caynoneer who spent six days with his arm pinned by an 800-pound boulder. He spent hours contemplating his few options and on the 6th day he performed an unthinkable operation on himself and survived to tell a legendary tale.
On the six month anniversary of the day he got trapped in Canyonlands National Park, Ralston ventured back there with Tom Brokaw. The NBC anchor told me his two hour Dateline story tonight is more than just an adventure story, it's a story about a man who had a spiritual transformation -- a transformation that was evident when he returned the canyon where he thought he would die.
Tom Brokaw, NBC "Dateline": "It was a very emotional time for him as he got back to the spot where he'd been trapped for five cruel days, you could still see the blood stains on the wall. He'd carved on the wall. Aron Ralston rest in peace."
It's unusual for Dateline to spend two hours on one story. Brokaw says they take the time because it's compelling from the beginning to the end.
"Desperate Days in Bluejohn Canyon" airs tonight at seven in a special two-hour edition of Dateline.
×