Estimated read time: 2-3 minutes
This archived news story is available only for your personal, non-commercial use. Information in the story may be outdated or superseded by additional information. Reading or replaying the story in its archived form does not constitute a republication of the story.
Sandra Yi ReportingVictim: "I was very scared. I didn't know what was going to happen."
'Man's best friend' lived up to its title, when a West Jordan teen was allegedly kidnapped by two friends. The alleged incident happened yesterday afternoon. The teen says she was able to escape, when her dog bit one of the suspects.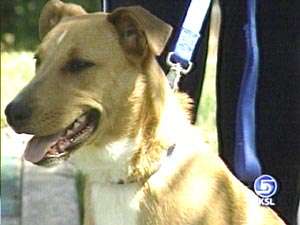 The teen and one of the suspects are friends and school mates at West Jordan High. She says he asked her for a ride home from her house, but ended up trying to kidnap her. We talked to the teen and her family. They wanted to hide their identity, because they fear retaliation.
The family adopted Mya, their dog, in July.
Mom: "It's the best 75 dollars we ever paid."
Yesterday she proved her loyalty.
Mom: "She's a true best friend."
This teen takes that to heart. Yesterday she was at home when two friends asked for a ride. She says her dog smelled trouble from the start.
Victim: "When he first got in the car, she was really not too happy. She was really upset, but I thought it was because she didn't know him."
But the animal's instincts were right. The teen was in South Jordan when the trip turn a bad turn.
Victim: "I decided I wanted to pull over to the side because we were going too far away. And he told me I couldn't do that, that we were going to Las Vegas, and that he had dropped out of school and that he was kidnapping me."
She says he then threatened her with some kind of weapon. They were in Provo when the suspect asked her to pull over at a convenience store.
Victim: "He wanted to go to the gas station and I didn't want to get out with him. He grabbed a hold of my shoulder and my dog attacked him, and him and his friend ran off."
The teen got away. Before that she managed to text the message 'help' to her mother on her cell phone. She called her mother again after it all happened.
Mother: "It was the most helpless feeling I ever had, because as a parent, you do everything you can to protect your children."
The teen's parents are proud of her and their dog. They hope the suspects face the harshest penalties.
Victim: "I don't want them to hurt anyone else. I think they need help."
South Jordan Police are investigating and would not comment on whether they found the weapon. The suspects have been released, but officers plan to question them again. They could face felony charges.
×
Most recent Utah stories