Estimated read time: 2-3 minutes
This archived news story is available only for your personal, non-commercial use. Information in the story may be outdated or superseded by additional information. Reading or replaying the story in its archived form does not constitute a republication of the story.
Ed Yeates ReportingFrom the Great Salt Lake to Wendover, maybe our flat, desolate, flexible desert floor isn't so bad after all. Though the Genesis capsule plowed into our desert at almost 200 miles per hour - even hitting at the worst possible angle - the cargo inside carrying precious samples collected from the solar wind apparently faired much better than expected.
Don Sevilla, Jet Propulsion Lab: "I've been looking inside the canister, and it's actually quite amazing."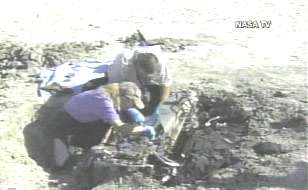 Amazing when you consider most sitting in the room Wednesday morning expected to find nothing but a pulverized mess. In the clean room at Dugway Proving Ground, bits and pieces from the capsule still look ugly. But Don Sevilla with the Jet Propulsion Lab says after hours of peering inside broken containers, "We're not talking about great clods of dirt. There is still polished metal looking very pretty inside our rather ugly patient."
Sensitive hexagonal plates aboard Genesis, which opened up into the blackness of space, have captured atoms from the solar wind. It's hard to believe some of the fragile mirror like structures are still intact. And even though others have broken into pieces, Don Sevilla says, "We do not need to have whole pieces to do our science."
In fact, NASA researchers today are claiming the unexpected survival of major parts of their experiment should now let them meet many, if not all, of the science goals.
While contamination is still an issue, Larry Nyquist with the Johnson Space Center says, "I'm fairly confident there will be ways to devise to clean the surfaces in such a way that we leave the materials, the atoms, intact."
Researchers will find out what is or isn't possible only after the material is moved from Utah to the Johnson Space Center.
The company that manufactured the parachute mechanism for Genesis is taking a sigh of relief today. The system was intact and in good shape, but simply never got the electrical command to do its thing. A review board will now try to find out why that never happened.
×