Estimated read time: 2-3 minutes
This archived news story is available only for your personal, non-commercial use. Information in the story may be outdated or superseded by additional information. Reading or replaying the story in its archived form does not constitute a republication of the story.
John Daley ReportingThree years after the September 11th terrorist attacks, one Utahn has a remarkable story to tell. It was a day one Utahn won't soon forget--he saw the towers go down and then he became an unlikely photo-journalist of sorts, documenting the event with his digital camera right at ground zero.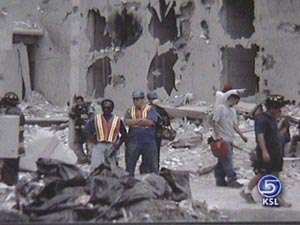 In his office at Ski Utah Nathan Rafferty, the agency's communications director, has a remarkable, haunting photo. A fire truck in ruins at Ground Zero.
Not only did Rafferty see both towers fall, he snapped some unforgettable photos of the unforgettable aftermath, before now never shown on TV. The day after, he and a friend walked down to Ground Zero to see for themselves, when he was approached by a man he didn't know.
Nathan Rafferty, Witness to 9/11: "A guy comes up to me with a policeman and says, 'Hey, is that a digital camera you've got there?' I said yeah. He said, 'We'd like you to come down and document the congressman's visit to ground zero.'"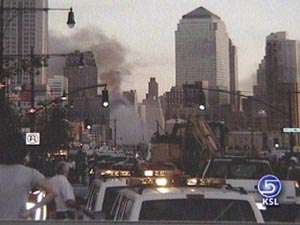 The man led him past security, past the media and directly to the scene, where Rafferty took a few pictures of Staten Island Republican Vito Fossella. The congressman and his staffer left. Rafferty stayed and, keeping a low-profile, he took some amazing pictures of buildings completely destroyed, blown out windows, everything covered in ash. Of firemen and rescue worker focused on the task at hand, but looking absolutely dazed, exhausted and emotionally wiped-out.
Rafferty: "I think they were in shock. Just lots of shaking heads and furrowed brows. People wondering still, what happened here."
Most memorable was the smoky smell, an absolutely empty hotel from which people ran so quickly they left behind their cell phones and suitcases, and the distinct feeling he'd witnessed an event which would change the world.
Rafferty: "It was like being front row at Pearl Harbor. Something that shapes history, that you've only heard about or read in a book, but you're front row to see it all."
You might wonder what happened to the photos of the politician which Nathan Rafferty took that day. We checked Representative Vito Fossella's web site this morning and looked. We clicked on photo album--and clicked on photos dated September 12th, 2001. There we found the same pictures of Mr. Fossella--which Nathan Rafferty emailed to him.
×