Estimated read time: 2-3 minutes
This archived news story is available only for your personal, non-commercial use. Information in the story may be outdated or superseded by additional information. Reading or replaying the story in its archived form does not constitute a republication of the story.
Keith McCord ReportingIf you love antiques, particularly those from Europe, then you're about to have an opportunity like never before. An incredible haul of items will go on sale to the public later this month.
To an antique dealer, looking for something rare and unusual is the challenge. For Salt Lake's Scott Evans, he may have found the mother load! And he brought it here from Liverpool, England.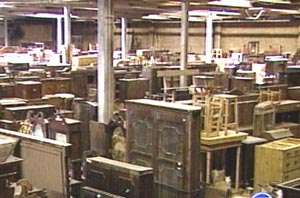 Scott Evans, Antique Dealer: "We think it's, and we've actually applied to 'Guiness,' the Book of World Records, that this is the largest collection ever sold at one time."
More than 8,000, worth, perhaps, as much at 12-million dollars. Scott Evans bought the items from a long-time friend and antique colleague in Liverpool. It took 27 huge shipping containers to get it here.
The collection has a little bit of everything -- armoires, desks, tables, chairs, chairs by the hundreds, row after row after row after row. Most of the items are made in England. The bulk of it dates back to the 1860's and 70's. And there are some treasures, like a credenza.
Scott Evans: "It's made out of about seven different woods -- Rosewood, ebony boxwood, mohogany."
Price: $38,000.
A French writing desk dates back to the 1700's.
Scott Evans: "But the inlay is spectacular. It's all done by hand. Inside there's the original velvet with a hidden compartment."
The oldest item in the collection is an Elizabethan Court Cupboard from the 1600's. It's $18,000.
Scott Evans: "This is probably one of the pieces that shouldn't have left England. It's really a part of English history."
Scott Evans says English antiques are known for their quality and style. He's been in the business for 25-years and says he's never seen a collection like this.
Scott Evans: "This is a goldmine of stuff. It's, I guess, the mother load, brought me out of semi-retirement to do it."
He's not done yet. Scott says there are still a few more crates in England to ship to Utah. Scott plans to have a big grand opening open to the public in a few weeks. He expects customers from all over the country to be here.
×