Estimated read time: 2-3 minutes
This archived news story is available only for your personal, non-commercial use. Information in the story may be outdated or superseded by additional information. Reading or replaying the story in its archived form does not constitute a republication of the story.
Jed Boal ReportingA Cache County community honored a native son today who was killed in battle in Iraq. Lance Corporal Michael Allred was killed a week ago in a suicide bombing. Today, the town of Hyde Park paid tribute to the fallen Marine with a day of mourning.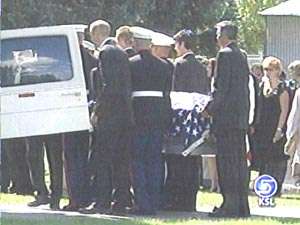 Hyde Park gave Lance Corporal Michael Allred a very patriotic salute. Hundreds of family members, friends and strangers gathered to pay their last respects.
Lance Corporal Michael Allred has his sights set on law enforcement, or teaching. He was set to exit the marines in a few months, but his family says his commitment to his country and fellow marines came first.
Brad Allred, Brother: "Michael's always been the best at what he's done. So there was no other option for Michael, he was going to be the best."
Corporal Allred was a 22-year old Humvee driver. He was killed with six other marines when a suicide bomber pulled up next to their convoy in Fallujah a week ago.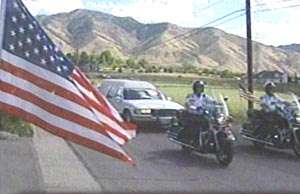 Allred had a passion for motorcycles. A couple dozen rode in the procession today. The streets were lined with the stars and stripes as hundreds in the community, friends and strangers, honored Michael as a fallen hero.
Brad Allred: "Michael was one of those people that if he was in a room, you knew he was there regardless of what was going on. He commanded respect by who he was and how he carried himself."
Brooke Allred, Sister: "He went to the highest point and tried to jump off of it. He was a tease. He loved to make people laugh. He loved to make people smile."
The family is grieving, but say they can accept his death because he believed in what he was doing.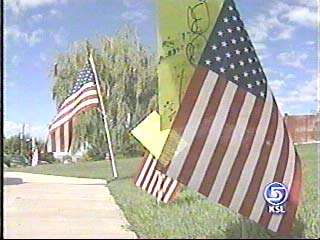 As the family laid Michael's body to rest, a Black Hawk Helicopter hovered overhead for a final salute to the fallen hero of Hyde Park.
The last time Hyde Park lost a community member in battle was in 1944 in World War II. Lance Corporal Quinn Keith of Blanding was also killed in that same attack a week ago. His funeral services will be held in his home town Wednesday.
×