Estimated read time: 2-3 minutes
This archived news story is available only for your personal, non-commercial use. Information in the story may be outdated or superseded by additional information. Reading or replaying the story in its archived form does not constitute a republication of the story.
Tonya Papanikolas ReportingNearly 40 searchers from several police, fire and public safety agencies are combing through the Salt Lake County landfill once again for Lori Hacking's body. It's an especially arduous task now because they are doing it by hand -- more than 3,000 tons to dig through tomorrow.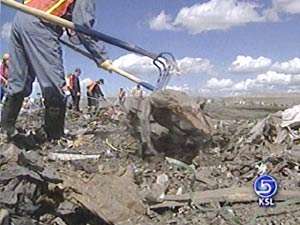 Thirty-eight men and women from different agencies around the valley are using pitchfork type rakes to dig through all kinds of garbage at the county landfill.
Donavan Lucas, Utah Highway Patrol: "Lots of plastic, lots of paper, pieces of a door, pieces of a table."
James Kangas, West Jordan Police Dept.: "Most of it looks like medical waste – sharps and surgical masks and gloves and gowns."
Some of this garbage may be from dumpsters near the University of Utah. Searchers are very meticulous and the job is grueling. They wear masks to help with the smell, steel-toed fire boots to protect their feet and leather gloves for their hands.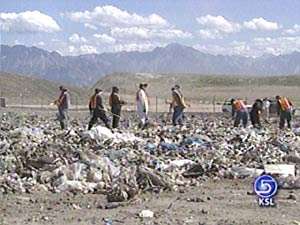 Scott Lauritzen, Salt Lake County Sheriff's Office: "We're at the dump. Everyone discards things they don't want. There's lots of hazards here - glass, all kinds of things."
James Kangas: "The hardest part is well, the stink."
And the sad realization of what volunteers are looking for, a human body amidst all the trash.
Searcher: "It gets to you, but it's something that has to be done."
Searcher: "She may be out here and we need to try to find her."
James Kangas: "Mentally it really hasn't registered yet. We just got out here and just got started. I'm sure as we progress, it will."
If the searchers find anything they believe could be evidence, they hand it over to homicide detectives for further review. Most of the searchers say they're confident they will find Lori. They want to help the Soares family find closure.
That family continues to stay in contact with police.
Det. Dwayne Baird, SL Police Dept: "They realize that it's a very difficult and arduous process. But they support us in what we do and we're here to do this for them."
Scott Lauritzen: "If I was in their situation, I would want the help from somebody else. So I'm just here to try to do my part."
As you look at the garbage, you can't help but notice how compacted it is. It's already been run over at least five times with machines that have spikes on their tires.
×