Estimated read time: 2-3 minutes
This archived news story is available only for your personal, non-commercial use. Information in the story may be outdated or superseded by additional information. Reading or replaying the story in its archived form does not constitute a republication of the story.
Kim Johnson ReportingWhat could have been a nasty malpractice case against a local physician has instead turned into a crusade to raise awareness of rare pre-natal condition that can turn deadly. Instead of suing, Bryce and Miriam Gerritsen, who lost their first baby to a condition called vasa previa last May, have teamed up with their doctor to educate the public about the condition.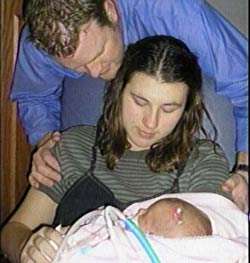 Miriam Gerritsen had a perfect pregnancy. But when she started having contractions, her baby's heart rate plummeted. Miriam's doctor ordered an emergency C-section, but it was too late to save her baby.
Miriam Gerritsen: "It was so hard. That's why we don't want another family to have to experience it. That's why we're doing this."
Miriam had vasa previa, a rare pre-natal condition where the baby's placental and umbilical blood vessels cross the entrance to the birth canal.
Bryce Gerritsen: "And so when labor onset and the cervix began to dilate. The vessels ruptured and the baby bled to death through the cord."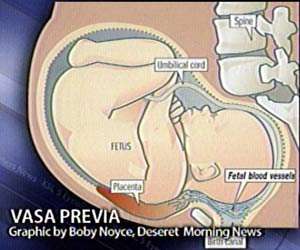 Vasa previa is rare, affecting only one in every two to five thousand pregnancies. Miriam showed no signs of being at risk. The abnormality can be detected by color doppler ultrasound, and if it's found, the doctor will order a caesarian section.
Problem is, most doctors don't look for it in the ultrasound. And most prospective parents don't know to ask them to look for it. That's why Gerritsens have organized the Vasa Previa Foundation of Utah.
Miriam Gerritsen: "All the money that we're raising is going to make sure every hospital has the correct machine to detect it, that doctors know how to look for it, that women know to ask for it when they're in their ultrasound."
Gerritsen's doctor, Daren Watts is helping them get the word out to other doctors and prospective parents.
Dr. Daren Watts, Gerritsen's OB/GYN: "Unfortunately it's a rare condition with catastrophic results."
And despite their tragedy, Gerritsen's say they have no negative feelings toward Dr. Watts who grieved along side them.
Dr. Daren Watts: "It's been so tough. I can't tell you, it's been really tough."
Watts attended Elle's funeral, and the Gerritsen's want him to deliver their future babies.
Bryce Gerritsen: "We never considered taking any negative action. WE wanted only positive things to come out of this."
The Gerritsens, through the foundation, have organized "Elle's Walk" for Vasa Previa Awareness. It will be held this Saturday, September 18th at 10:00 a.m. in Sugarhouse Park.
×
Most recent Utah stories