Estimated read time: 2-3 minutes
This archived news story is available only for your personal, non-commercial use. Information in the story may be outdated or superseded by additional information. Reading or replaying the story in its archived form does not constitute a republication of the story.
SPANISH FORK, Utah (AP) -- Family members mourned Marine Lance Cpl. Cesar F. Machado-Olmos, who died in Iraq on Monday -- seven days short of his 21st birthday.
He was the best," his mother, Patricia Acosta, said. "I wanted to see him again, but he never returned to me. He didn't make it."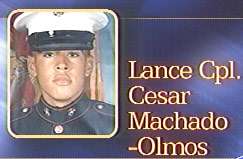 Machado-Olmos and Lance Cpl. Michael J. Halal, 22, of Glendale, Ariz., both died in a non-combat vehicle accident in Al Anbar Province, the Department of Defense said.
The military is still investigating the accident that killed the two Marines, who were both assigned to the 2nd Marine Division based at Camp Lejeune, N.C.
Acosta said her son called her every week during his stay in Iraq, sometimes calling as early as 3 a.m. his time to deal with the 10-hour time difference. He always assured her everything would be fine.
"I only told him he needs to be careful, he needs to be safe," Acosta said, beginning to cry. "He said he was fine ... He said he'll be OK and he'll come home. He said he was coming very soon."
Machado-Olmos was scheduled to come home in January, six months after his unit went to Iraq.
Acosta described her son as an obedient, kind and loving person who would always do what was asked of him.
He graduated from Spanish Fork High School in 2001 and had an interest in reading, especially mystery books. He also was fond of swimming and enjoyed spending time in local rivers and the Spanish Fork Reservoir.
Machado-Olmos joined the Marines on Aug. 25, 2001. In the past three years, he served two tours in Iraq, winning several awards including the Presidential Unit Citation while on his first tour during Operation Iraqi Freedom.
He also received the Combat Action Ribbon, Global War on Terrorism Expeditionary Medal, Sea Service Deployment Ribbon and National Defense Service Medal.
Machado-Olmos' military occupational specialty was in hygiene equipment repair, which encompassed everything from water purification systems to showers.
(Copyright 2004 by The Associated Press. All Rights Reserved.)
×