Estimated read time: 2-3 minutes
This archived news story is available only for your personal, non-commercial use. Information in the story may be outdated or superseded by additional information. Reading or replaying the story in its archived form does not constitute a republication of the story.
Tonya Papanikolas ReportingFamily and friends of a missing Salt Lake man are trying to find out what happened to him. Police are investigating his disappearance but don't have much to go on right now.
Anyone driving north along State Street may have seen some large billboards with a man's picture on them. The man is 41-year-old Jeffrey Nichols. He's been missing since early June and his family is hoping the public can help find him.
Overlooking State Street is a picture of Jeff Nichols smiling and looking happy. But next to his picture is the word "missing." No one has heard from Jeff since the morning of June 8.
Jeff's Girlfriend: "He told me to call to wake him up. He was on his way to meet his ex to buy these golf clubs."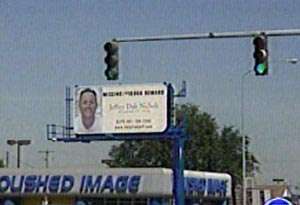 But his ex-wife said he never made it there. Nichols told his girlfriend they were meeting at 4500 S. State. His car was later found three blocks from there, but no Jeff. And his friends and family don't know what happened.
Tony Hillyard, Jeff's Best Friend: "I've been out in the garage crying a few times. He's been gone three months, and that doesn't sound good."
For personal reasons, Jeff's girlfriend doesn't want her face shown. She says the whole ordeal has been a nightmare.
Jeff's Girlfriend: "It's one of those things you can't possibly believe can ever happen to you."
Most of Jeff's friends and family believe foul play was involved. They say Jeff never would have willingly left his seven-year-old son, Sam.
Tony Hillyard: "Something happened, something happened that wasn't right."
Jeff's Girlfriend: "His son really did come first. He was his whole world."
Police say they are following up on a few leads, but can't rule out the possibility that Nichols walked away.
Det. Dwayne Baird, Salt Lake City Police Dept.: "If we had some indication that there was foul play, we would have an investigation that would lead us down that path. But we just don't have that."
Jeff's girlfriend admits that Nichols was on medication for depression, but says he was taking it faithfully and doesn't believe that has anything to do with his disappearance.
Jeff's girlfriend: "To think that he was in a depression at that time, no. Everything seemed like if anybody had anything going their way, it was him."
Right now the family has put up two billboards along State Street. They are offering a $10,000 reward for information that helps them find Jeff.
The family also has his bank account records. They say no money has been withdrawn and his credit cards have not been used since he disappeared.
×