Estimated read time: 2-3 minutes
This archived news story is available only for your personal, non-commercial use. Information in the story may be outdated or superseded by additional information. Reading or replaying the story in its archived form does not constitute a republication of the story.
Richard Piatt ReportingIf you've driven through Salt Lake City's Sugar House neighborhood lately, you may have noticed a lot going on. There is a definite effort to bring that neighborhood back to the way it used to be, when people parked on 21st South and walked from shop to shop.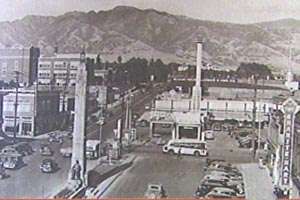 Some people think 'Sugar House' and they think of the park, but there's a lot more to this area. In fact, connecting the businesses to the park is just the beginning of a plan to overhaul the area--a plan that's going on right now.
Sugar House is bustling these days--mostly people passing through, but there was a time when things were slower, when people stopped and walked from store to store more. Some of that quality is returning, thanks to a steady stream of improvements that, to one taco vendor, are obvious and good for him.
Carlos Solorzano, Taco Vendor: "I've only been here a couple of months, but it's getting better and better. And the people there, making sidewalk improvements, it's great."
There are sidewalk improvements -- half a million dollars worth of modern curb and gutters. On some blocks, crossword-style bricks are part of a public arts initiative throughout the area. Light poles in redeveloped areas have a sugar beet on them, custom made for the neighborhood.
Then there is the new construction. Around 10th East, identical buildings -- one built, the other underway -- will add retail. The buildings themselves are meant to fit in to the character of the neighborhood.
Helen Peters, Sugar House Community Council: "What makes Sugar House unique is the historic village, the walkability, the human scale to it. And once that's lost there may be a backslide to that, that may not be so successful."
Community council member Helen Peters fights for those qualities, at one point taking on Smith's and playing a role in a less corporate store that just reopened this week.
There are major projects too, like a new IHC building on 9th East. Ballet West will open its headquarters near Sugar House Commons eventually too. Even an old landmark--the Redman building--is on its way to becoming an office and condominium complex.
But what really matters, according to frame-shop owner Travis Tanner, is that Sugar House is becoming a place where people want to be.
Travis Tanner: "It's really starting to feel like a community place."
There are challenges -- Granite Furniture is closing and some store fronts are still empty. But Sugar House is still the place where the most dynamic development in the city is happening right now. Sugar House is a work in progress and progress is what it's all about if it pays off.
×