Estimated read time: 1-2 minutes
This archived news story is available only for your personal, non-commercial use. Information in the story may be outdated or superseded by additional information. Reading or replaying the story in its archived form does not constitute a republication of the story.
Samantha Hayes ReportingWildlife officers are busy relocating a bull moose that wandered into the Salt Lake City Cemetery this afternoon. This is the third loose moose in four days, and the third bull moose. The one in the Salt Lake Cemetery today was probably 900 pounds.
He trotted around for a while, then settled down beside a tombstone. Wildlife officials tranquilized the animal, but it took a few minutes for the drug to take effect. The moose stumbled and tripped as his legs started to stiffen; at one point he knocked over a stone grave marker.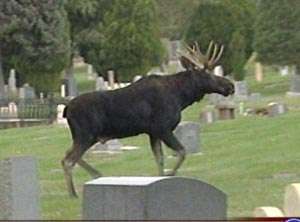 When he finally fell down it took several men from wildlife resources, the police department, and the fire department to roll him over and lift him off the ground and into the trailer.
Sgt. Scott White, Department of Wildlife Resources: "Cut antlers of so bull moose hunters won't shoot him. Painted him with bright blue paint so hunters won't shoot; that way they won't use once in a lifetime tag. Shooting a blue moose wouldn't be the best thing."
Wildlife officers say this is the time of year when moose mate. They think that's why they have seen several healthy, adult bull moose wandering out of the mountains.
×
Most recent Utah stories