Estimated read time: 2-3 minutes
This archived news story is available only for your personal, non-commercial use. Information in the story may be outdated or superseded by additional information. Reading or replaying the story in its archived form does not constitute a republication of the story.
Jed Boal ReportingKathleen Sneddon, David's Mother: "We still think he's alive, but we're at a dead end and don't know where to go from here."
A Utah family has run out of clues, but they still believe they will find a missing son half a world away.
David Sneddon, of Cache Valley, mysteriously disappeared in the mountains of Southern China more than a month ago. The 24-year-old planned to return to Brigham Young University this fall, instead, his family spent ten days tracing his steps to the mountains near Tibet. Sneddon's mother remains optimistic her son is alive.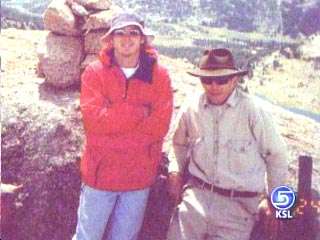 When we first told you about the search for David Sneddon ten days ago, his father and two brothers were headed to China to find him. They put together part of the puzzle, but cannot find the last critical pieces, so they're coming home.
Kathleen Sneddon: "It's a day to day operation. We have not given up hope, and still think he's alive."
Kathleen Sneddon knows a lot about the mountainous region in which her son, David, disappeared. She knows where he hiked after he left his backpack at a guesthouse and walked along Leaping Tiger Gorge. And she believes David did not fall into the gorge. Witnesses saw Sneddon after he left that area and moved north toward the village of Shangri-La.
Kathleen Sneddon: "He did not fall in the gorge. Something else happened. He's not dead down there."
Kathleen's husband and two sons spent the last 11 days in the Yunnan Province retracing David Sneddon's route. Witnesses saw Sneddon hiking the gorge, others saw the American in two different villages further north. They knew it was Sneddon because he spoke Mandarin Chinese and they recognized his picture.
But the Sneddons ran out of clues in Shangri-La, where David should have taken a bus back to his gear.
Kathleen Sneddon: "They're going to come home. There's nothing they can do. They've explored every possibility."
The Sneddons are thankful for the prayers and encouragement they've received and the help they've had from the Chinese and American Governments. All possible scenarios now seem improbable and they don't believe he would simply run away.
Kathleen Sneddon: "He had too much going on, and he had no money."
Witnesses told the Sneddons David was seen traveling with different people along the way, but they don't think that's suspicious.
The family will continue to work with the State Department as they search for any helpful clues.
×
Most recent Utah stories