Estimated read time: 2-3 minutes
This archived news story is available only for your personal, non-commercial use. Information in the story may be outdated or superseded by additional information. Reading or replaying the story in its archived form does not constitute a republication of the story.
Kimberly Houk ReportingA man who was hit by a school bus today in Midvale, has died. The victim was taken to the hospital in critical condition, but died this afternoon.
It happened in front of several others, including another school bus full of kids.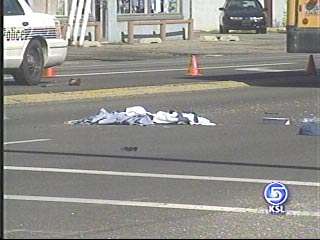 Police are still trying to figure out how the school bus driver didn't see the man in the crosswalk on State Street in Midvale. She was making a left turn onto State Street. She had the green arrow, and the right of way. The 20-year old man was in the cross walk, on a cell phone, at a time when he didn't have the signal indicating it was his turn to cross the street.
Mike Ferderber, Witness: "I seen this guy walking across the street and the light was flashing, 'do not cross.' And I seen the bus start to turn left. I thought it was going to stop, but it didn't. It hit him and it started to drag him. He looked like he was a rag doll."
The bus dragged him 25 feet while children watched.
Shane Westberg, Witness: "I was shaking. It was pretty traumatic for me. I can't imagine the kids on the bus that hit him, or the bus behind them watching it."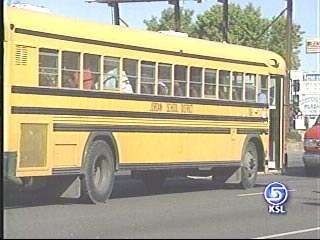 The kids sat on the bus while police investigated the accident. A white sheet was put up to block the students' view of the accident scene. Then the fourth grade students were taken off the bus and put on another one to be taken back to Jordan Hills Elementary School.
They were on their way to watch a symphony play at Hillcrest High School when the accident happened. None of the kids were physically hurt, but a counselor was brought to the scene to help them deal with the after-effects of what they saw.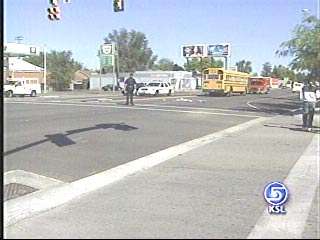 The victim has not been identified. A witness who ran to assist him after the accident says the victim was panicked.
Shane Westberg: "I held him and told him someone was on their way."
Police say the man probably didn't see the bus coming; he was on his cell phone while he tried to cross State Street. And police say even though the bus driver had the right of way, she is still very shaken up by this accident.
×