Estimated read time: 2-3 minutes
This archived news story is available only for your personal, non-commercial use. Information in the story may be outdated or superseded by additional information. Reading or replaying the story in its archived form does not constitute a republication of the story.
Shelley Osterloh ReportingSome Draper residents have teamed up to complete a park and amphitheater in their community. The project remained unfinished for nearly eight years, but now residents have decided to help raise money to finish it.
Developers of South Mountain built a terraced area for the amphitheater and turned it all over to Draper City in 1996. Soon the area will come alive with music as part of a fund raising effort to make it a permanent home for the arts in Draper City.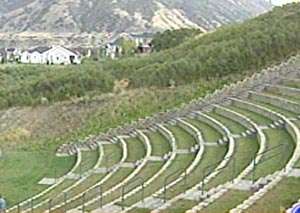 The grassy amphitheater sits on the hillside surrounded by beautiful new homes in the development known as South Mountain. Neighbors say terraced seating area, parking and unfinished land could be so much more.
Amy Clegg, South Mountain Resident: "And it's always been a bit of an eyesore and not finished. And the neighborhood and the community is so beautiful up here, and we just love it."
Draper residents formed a committee to raise 250-thousand dollars and Draper City agreed to match that amount to complete the project.
Jeff Hymas, Draper City Spokesperson: "This won't only be an amphitheater it will be an amphitheater and park. There will be a pavilion, and a place for kids to play as well as the amphitheater and stage. So it's going to be a great amenity for the city."
Mark Purles, Draper Mountain Park Committee: "We are looking for it to be a place where the community can be brought to the arts and the arts to the community."
Plans call for a pavilion and stage, lighting, a playground, walking trails and a gazebo overlooking the valley. The committee is selling 50-dollar pavers to raise money and is presenting a concert t'here on Oct 1st with Ryan Shupe and the Rubber Band.'
The amphitheater is to be named in honor of the late Utah Actor Robert Peterson -- a man who generously shared his love of the arts with many. His daughter says it's a way of carrying on Peterson's legacy and helping Draper City.
Terri Purles: "When he sang it was as though he elevated others to reach for the stars and reach within themselves for the best and that's what we want to remember here. We want to reach for the best within us and develop out talents and bless our children's lives with great art."
Organizers hope to have The Magic on the Mountain Park and Amphitheater finished by this time next year. And to get it all going, that concert on October 1st and other fundraising events are planned.
×
Most recent Utah stories