Estimated read time: 1-2 minutes
This archived news story is available only for your personal, non-commercial use. Information in the story may be outdated or superseded by additional information. Reading or replaying the story in its archived form does not constitute a republication of the story.
Jed Boal reporting There was a lot of commotion this morning in downtown Salt Lake City.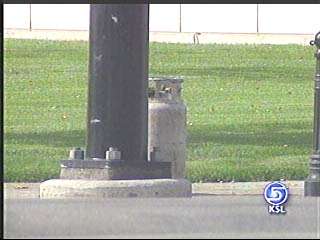 A block of downtown near the Matheson Courthouse was cordoned off after a suspicious item was found. Police also shutdown TRAX trains in the area.
It all started around 11am, after someone discovered an abandoned propane tank on the corner of 4th South and State Street. The 20-gallon tank immediately raised suspicions.
As a precaution, people in the north wing of the Matheson Courthouse were moved to the south wing. The University TRAX line was shutdown, and police blocked off traffic in all of the surrounding streets.
The bomb team then took a closer look at the tank.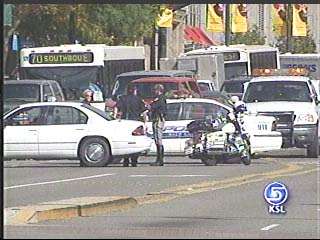 "They investigated it, found that there wasn't anything there. We have checked with our equipment to make sure that it is not leaking, which it isn't," said Scott Freitag, Salt Lake City Fire Dept. "We believe now that it probably fell out of the back of a truck. Somebody stopped, saw it, pick it up and moved it off the road, and put it on the sidewalk."
The tank was damaged, which led the fire department to believe that it did fall out of a truck.
×