Estimated read time: 2-3 minutes
This archived news story is available only for your personal, non-commercial use. Information in the story may be outdated or superseded by additional information. Reading or replaying the story in its archived form does not constitute a republication of the story.
Sam Penrod ReportingUVSC students sparred today over what's become a huge controversy -- an invitation for filmmaker Michael Moore to give a speech on campus.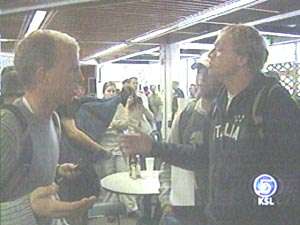 UVSC students had their chance to publicly express their opinions about Michael Moore. And now there will be a contrasting viewpoint offered on campus. Sean Hannity has agreed to speak a week before.
It was a very healthy rally, that's probably a good way to put it-- no one got into any trouble. And by the time it was over, no one could say they didn't have their chance to speak their minds.
They brought their signs, they brought their voices, and for some in the crowd, they couldn't hide their emotions. One by one, those for and against UVSC's decision to bring Michael Moore to campus got a chance to speak.
Protester: "Paying Michael Moore to speak at this college is a slap in the face to all those who've served and continue to served in our country's armed forces."
Nearly 200 people spent their lunch hour cheering and booing the speakers.
Chelsea Lofgren, UVSC Student: "I've been really embarrassed about how our student body is reacting towards Michael Moore coming to our school. We're a college campus, we're supposed to learn from controversy and ideas. I think everyone's acting ridiculous."
It started when a group of students began a campaign to recall USVC's student body leaders. Before today's rally, student leaders announced that Sean Hannity has agreed to speak on campus. While Hannity will speak for free, UVSC will pay his travel expenses.
As for the $40,000 price tag for Michael Moore's speech, student leaders say most of it has already been recouped through ticket sales. But for some students, they say Hannity is not the answer either.
Matt Godfrey, UVSC Student: "I think it's great for Sean Hannity to come to UVSC. I think it's great to bring someone who is as far fetched conservative as Michael Moore is liberal."
Almost all of the tickets for the public to see Michael Moore are sold out. Tickets for Sean Hannity are already on sale and UVSC expects Sean Hannity will be a sell out too.
×
More stories you may be interested in