Estimated read time: 1-2 minutes
This archived news story is available only for your personal, non-commercial use. Information in the story may be outdated or superseded by additional information. Reading or replaying the story in its archived form does not constitute a republication of the story.
Amanda Butterfield reporting A couple from British Columbia, traveling through Salt Lake in their motorhome, will spend the next few days in the hospital. This after their motorhome exploded.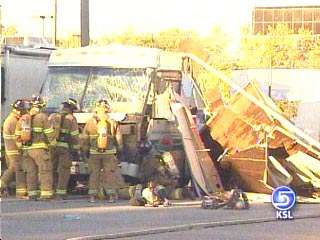 It was supposed to be a leisurely, late summer trip for the Makowishucks. The were traveling with another couple, the Baergs, in separate motorhomes, and decided to spend the night in Salt Lake before heading down to Zion National Park. So this morning, Mary Makowishuck went to light the stove to start breakfast as usual.
Willie Baerg, Traveling through Salt Lake: "All the sudden we had this bang, and it hit our motor home and broke our door, and I looked out and their motorhome was in pieces!"
The propane tank had blown up.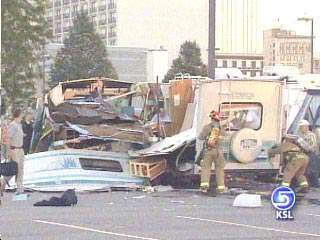 Fire crews first on the scene had to literally unbury the couple inside.
Pete Macowashuck, sleeping in the back, was able to stand up, and only suffered a few scrapes and bruises. But Mary, near the front of the motorhome, was unable to move. Crews had to dig her out from under the debris.
Their friends who staying in the motorhome parked next to it, ran out when they heard the explosion.
Willie and Hazel Baerg: "When I looked out the door, I didn't think anyone would be alive in there, it was such a mess. There was no roof, no wall, nothing. It was gone."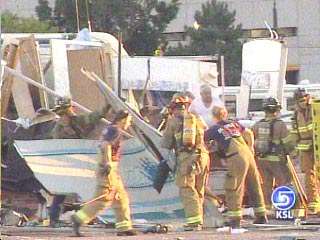 Both Mary and Pete are expected to be okay, and are being treated at LDS and U-med hospitals.
Salt Lake County fire officials tell us explosions like this only happen about once a year.
What caused the propane tank to explode is still under investigation.
×
Most recent Utah stories