Estimated read time: 2-3 minutes
This archived news story is available only for your personal, non-commercial use. Information in the story may be outdated or superseded by additional information. Reading or replaying the story in its archived form does not constitute a republication of the story.
Kimberly Houk ReportingHow would you like to swim with the stars? That's what a couple of students from Cottonwood Heights Elementary got to do today.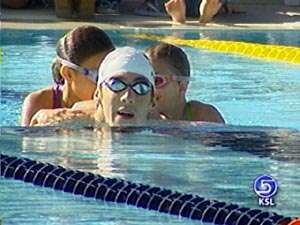 They took to the pool with eight-time gold medalist Michael Phelps and his winning teammates, Lenny Krazelburg and Ian Crocker.
The kids waited, hardly able to contain their excitement as they tried to catch the first glimpse of their swimming heroes. And the trio arrived in style, high-fiving the crowd as they made their way to the pool
Michael Phelps: "This is something I dream of, and something I dreamed of all my life. It's been absolutely incredible."
Incredible for the kids who got a first hand lesson in the different swimming strokes. First there was Ian Crocker with his powerful butterfly stroke. Krazelberg showed them how to be the king of the back stroke, while Phelps wrapped it up freestyling. He owns the fastest time when it comes to combining all four -- butterfly, breast, back, and the freestyle strokes.
But what really stole the show was the kids who got to swim with the stars.
Reed: "It was just awesome. It was the best experience I've ever had."
And when they couldn't swim anymore, they got a free ride on the back of Phelps.
Julianna Woodland: "My grandpa's always saying maybe someday you'll be in the Olympics."
And the stars admit this is all about inspiring the kids.
Michael Phelps: "It's incredible, the smiles they always have on their faces."
Lenny Krazelberg: "What we want is for them to see that we're really good at something. We work really hard. We dedicate ourselves to a goal."
As for those eight gold medals that Phelps won in Athens, he says he doesn't know where they are, but he knows who has them.
You can catch the stars swimming tonight at 7 o'clock at the University of Utah. Tickets are $30.
×