Estimated read time: 2-3 minutes
This archived news story is available only for your personal, non-commercial use. Information in the story may be outdated or superseded by additional information. Reading or replaying the story in its archived form does not constitute a republication of the story.
Alex Cabrero ReportingA Salt Lake City motel is being evacuated after officials say a man has poisoned the area with mercury. Now the man is being treated and residents are being tested.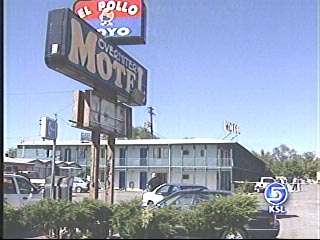 The man, who was trying to make gold, made a mess instead. Now the EPA is involved, saying the motel room he was staying in is full of dangerous mercury vapors. It all happened at the 'Overniter Hotel' in West Salt Lake City.
Police say the man checked himself into the hospital because he didn't feel well. Doctors detected large amounts of mercury inside his body.
He was treated and released but police were curious about his activities so they went to the motel where he was staying.
It appears the man took no precautions and now health officials are trying to determine exactly how widespread these mercury vapors are. The hotel is off-limits as investigators test the area. The man's hotel room and the two next to his tested very high for mercury, enough that residents who lived there have to be moved out and decontaminated.
One resident didn't know anything was going on until he looked outside and saw fire trucks, police cars and an ambulance.
Freddie Mayers, Lives at Motel: "What in the world could they be looking for and what in the world could harm us by whatever it is they're looking for? And of course what is it that might of course impose some type of danger on the people who of course can't find out what's going on."
He found out later exactly what was going on and says it's a pretty scary thought. Crews spent most of the afternoon what damage had been done. Mercury vapors can seep into wood and stay there, so tonight residents have been moved to the other side of the motel.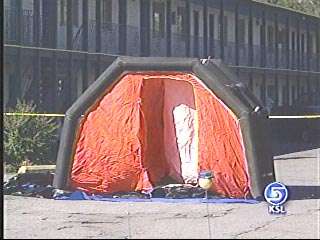 As for the man's condition, we're told he is in pretty bad shape, but he should survive. He was taken to a local hospital. As for other residents of the motel, no one else has shown any effects from these mercury vapors.
Despite the danger involved, officials say the man's actions are not illegal.
Scott Freitag, Salt Lake City Fire Dept.: "This is what he does to make a living, and it's not illegal for him to do that, although it does pose a potential health hazard to those who live around him. And so we're walking a particular line here that he hasn't harmed anybody. Now if he disposed of the mercury improperly, that would be illegal. That's hasn't been determined yet."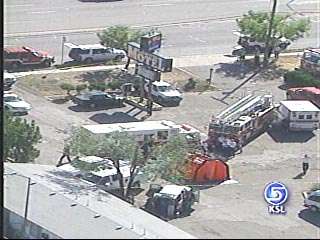 ×
Most recent Utah stories