Estimated read time: 2-3 minutes
This archived news story is available only for your personal, non-commercial use. Information in the story may be outdated or superseded by additional information. Reading or replaying the story in its archived form does not constitute a republication of the story.
John Hollenhorst ReportingSteve Garner, Tremonton Parent: "We support measures that are sane and reasonable to keep our kids safe. But I think that this crossed the line."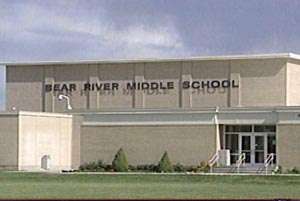 An evacuation drill at a Northern Utah middle school is dividing parents. The students were evacuated from the building by a SWAT team. And some say the methods used were intimidating -- even frightening.
The SWAT members carried guns during the lockdown and evacuation drill. The weapons were NOT loaded, but did the exercise go too far?
The annual drill at Bear River Middle School in Garland last week is unlike any other we've heard of in the state. In a school with hundreds of students, a SWAT team did a full dress rehearsal for a major crime or terrorist situation. Some parents support it. Others are furious.
Columbine taught us terrible things can happen in school. The recent terrorist attack on a Russian school showed just how bad it could be. At Bear River Middle School, the theory is they need to ready.
Calvin Bingham, Principal: "You know, we live in a different day and age, and we just want to be prepared."
Last Tuesday afternoon the principal signaled a "Code Red" to teachers. Classrooms were locked down, lights went out, the Box Elder Metro Swat Team took charge.
Calvin Bingham, Principal: "We had announced it. It was on the school calendar."
When the team entered the building it was with full S.W.A.T. clothing and gear including guns, which were unloaded. And they went room to room evacuating the students.
Calvin Bingham: "They did have them put their hands back here, like this."
Heather and Steve Garner are furious about the incident, saying it upset their son.
Heather Garner: "It was the fact that guns were used and intimidations were used. The guns were not held at the hipsters; they were pointed out at the kids."
Steve Garner: "We don't need to use fear and scare tactics to make our kids safe."
The principal says he doubts guns were actually pointed at students. But in light of the criticism, he plans to review the use of guns in the annual drill.
Some students say it was a worthwhile exercise that didn't intimidate them.
Molly Munns, 9th Grader: "A little nervous, yeah, but not scared."
Brittany Scheppard, 9th Grader: "I wasn't really scared because I knew it wasn't real. But if it was real, I would have been scared." Q – Did they point guns at you? "Yeah."
Robert Scheppard: "With all the craziness that's been going on in this country, any time there's a drill that would protect my family, I'm all in favor of it."
×