Estimated read time: 1-2 minutes
This archived news story is available only for your personal, non-commercial use. Information in the story may be outdated or superseded by additional information. Reading or replaying the story in its archived form does not constitute a republication of the story.
WHITE CITY, Utah (AP) -- A 21-year-old man was killed when a homemade cannon blew up, possibly because the wrong kind of gun powder was used.
Mark Reeder was killed Monday evening when struck in the torso by the blast, or by shrapnel from the cannon, said Salt Lake County sheriff's Sgt. Rosie Rivera.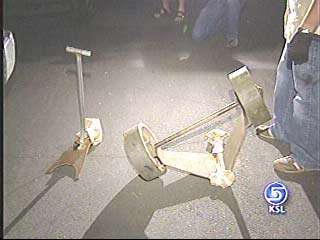 The body was found 30 feet away, but it wasn't known where he was standing at the time.
Reeder and his friend Greg Hunt were preparing to fire their cannon in a field near Hunt's backyard in White City, near Sandy. Hunt, the brother of Reeder's girlfriend, was not injured.
It was not known whether the explosion occurred when they attempted to fire it or while they still were preparing to do so, Rivera said.
The blast at 5:45 p.m. blew the cannon in two and was heard blocks away.
Rivera said the cannon had a two inch barrel made from pipe. It was about two feet long and welded to a triangle-shaped frame, to which wheels were attached.
The smokeless powder the men used, according to Rivera, may have been a factor in the explosion.
"Smokeless powder burns at a slower rate and builds up tremendous pressure," said Steve Gallenson, owner of Gallenson's gun shop in Salt Lake City. "It'll blow the barrel off or split the barrel of a cannon or muzzle loading gun."
Smokeless powder, which he calls a progressive burning powder, is used in cartridges, such as shotgun shells and rifle and handgun cartridges. Black powder, which burns quickly in a flash, is used for cannons and muzzle loading guns.
"It makes me sad that a young man like that made the wrong assumption when dealing with something this dangerous," Gallenson said.
(Copyright 2004 by The Associated Press. All Rights Reserved.)
×
Most recent Utah stories