Estimated read time: 2-3 minutes
This archived news story is available only for your personal, non-commercial use. Information in the story may be outdated or superseded by additional information. Reading or replaying the story in its archived form does not constitute a republication of the story.
Shelley Osterloh ReportingAt a time when big chain stores often put small neighborhood stores out of business, it's nice to note that some not only survive, but thrive.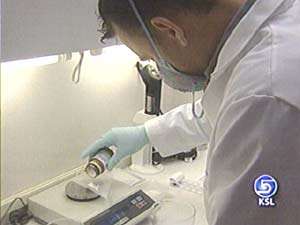 Jolley's Corner Pharmacy is 50 years old this month. Step inside and you can see a display of some of the old chemicals, prescriptions, mortar and pestol, used by its original owner, Joel Jolley, when he would mix up medication.
Joel's son Dean now runs the pharmacy and is doing well, partly by doing just what Dad did. The first Jolley's corner pharmacy opened at 9th south and 9th east fifty years ago. Today the three Jolley sons, Marty, Bryce and Dean, each has a Jolley pharmacy.
When their Dad started the family business 50 years ago, Joel Jolley mixed up most of the medications himself, even had some delivered. But soon large plants began manufacturing drugs and pharmacists just dispensed them to patients. But this pharmacy is part of a trend to return to the old way, mixing raw ingredients for individualized medications. It's called compounding.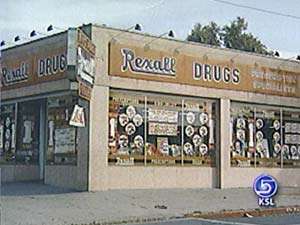 Dean Jolley: "What might work for 90% of the people, isn't going to work for the other ten percent. And they may need something customized for them, so we are here to do that customizing."
In a sterile lab right at the pharmacy a technician mixes the medications-- in creams, capsules, lozenges, drops, even lollipops and popsicles.
Dean Jolley: "We have 5,000 different formulas that we have on file, unique ones."
Some patients may not respond to traditional medications. Others may need a different strength or dosage form. Yvonne Barton says formulated pills didn't work for her, so her customized medication is delivered in a cream.
Yvonne Barton: "I guess your stomach doesn't absorb enough of it to put it into your system like it needs to. And it's not time released."
Others like knowing they are getting just the right dose and medication that works for them and are happy to find a pharmacy that can deliver that specialized care.
Lynda Nelson: "It's something that is specifically directed at me and I know that is working for me, not just a generic prescription."
Compounding medications is an idea that is catching on. A year ago, Dean Jolley says he would compound about 20 medications a day. Now it's twice that, and most of them are unique forms of hormones. We'll have more about what the compound medications are usually used for tomorrow.
×
Most recent Utah stories