Estimated read time: 2-3 minutes
This archived news story is available only for your personal, non-commercial use. Information in the story may be outdated or superseded by additional information. Reading or replaying the story in its archived form does not constitute a republication of the story.
Alex Cabrero ReportingResidents are still talking about the loud explosion that rocked their small neighborhood and took the life of a 21-year old man. It was a homemade cannon that exploded Monday and police are still trying to find out why.
One of the two men using it died.Even though police have ruled it an accident, there may be criminal charges.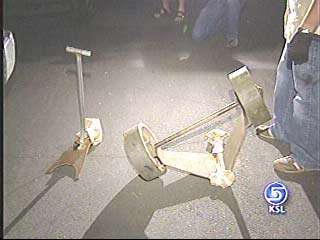 It's going to take some time for investigators to put together the pieces of this case, literally. The cannon ripped into several parts and trying to figure out exactly what happened will take a while. But for some neighbors, they don't care how it happened, they're just concerned that it did happen.
The homemade, welded metal cannon exploded Monday night, killing the man who was only trying to have some fun with it.
Mary Andersen: "It sounded like a bomb."
Mary Andersen and her family were home, a quarter of a mile away when it happened.
Robert Andersen: "It was a large explosion, kind of reverberated off our house. It was louder than a gunshot."
Louder and much more unsettling.
Mary Andersen: "It scared me. It scared me bad."
It turns out 21-year old Mark Reeder died in the explosion. He was at his girlfriend's house in White City, just outside of Sandy, where he and a friend were playing with the cannon.
The mistake, police say, was not taking proper safety precautions, especially when using smokeless powder.
Sgt. Rosie Rivera, Salt Lake Co. Sheriff's Office: "You just would've never known it would've went off the way it did."
One can't begin to imagine what the families are going through right now, but they are getting emotional help from their ward's bishop. But even still, the family will probably never understand why.
Sgt. Rosie Rivera: "It's just a tragic way to lose a family member."
Reeder was about 30 feet away when the cannon exploded, sending shrapnel his way. The Andersen's wonder what could've happened if others were around.
Robert Andersen: "It did kill one of our neighbors, but it could've killed how many more close by?"
Mary Andersen: "I have grandchildren that come over here to play. I don't want this kind of stuff in my neighborhood. I don't even want illegal fireworks in my neighborhood because they're putting my grandchildren in danger too."
Of course, you would think using a cannon like this one would be considered illegal or at the least you would have to have a permit. That is all part of this investigation. Depending on what comes out of it, police say there could be state, maybe even federal charges for negligence and such.
×