Estimated read time: 2-3 minutes
This archived news story is available only for your personal, non-commercial use. Information in the story may be outdated or superseded by additional information. Reading or replaying the story in its archived form does not constitute a republication of the story.
Tonya Papanikolas ReportingThe first time a nursing student has to give an IV or a shot to a patient, it can be scary. But students at the University of Utah's College of Nursing have a new tool designed to help them feel more comfortable before they get into that hospital setting.
Nursing students at the University of Utah are learning hands-on how to take care of patients, but if you look closely, you'll find "Mr. Reed" is a mannequin.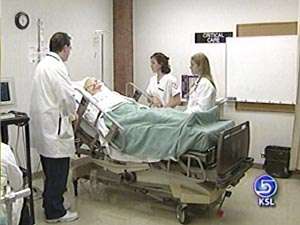 Student: "Can you tell me your name? Okay, he's unresponsive."
Jonelle Gray, Nursing Student: "Working with a mannequin is less intimidating, so you can really hone your skills, and you can interact with a teacher and you can learn which things you're doing wrong."
While he may lie still, this mannequin seems lifelike in many ways; that's because he's computer-simulated, the professor controls his responses. Students can actually hear him breathing, and they can feel his pulse. Not only that, but he coughs and talks.
'Mr. Reed': "Hey, that's really tight on my arm. Are you sure it's supposed to go that high?"
Student: "We're just checking your blood pressure, Mr. Reed. It's okay. It's not too tight."
Teachers say new nurses are often unnerved by a patient's response because it's something they never encountered in the classroom. But with the mannequin, they're trained to deal with the unknown.
Dr. Sandra Haak, Nursing School Professor: "You can allow mistakes to be made and have natural consequences. We see it as a way of reducing the amount of error that occurs in the practice setting."
The simulated training is safer than practicing on other students and more accurate than other methods.
Twenty or thirty years ago, nursing students learned to give shots by practicing on an orange, but today they also do this on mannequins. The shots are given right into a foam compartment, so students can really shoot liquid into the mannequin's body.
Chris Kipple, Nursing Student: "It's really neat to have all those components of a real life person, but it be in a practice scenario."
It looks like these students are learning a lot from a dummy.
×
Most recent Utah stories