Estimated read time: 2-3 minutes
This archived news story is available only for your personal, non-commercial use. Information in the story may be outdated or superseded by additional information. Reading or replaying the story in its archived form does not constitute a republication of the story.
John Hollenhorst ReportingTuesday night we showed some remarkable video of two bull elk that died a slow death after becoming entangled in each others' antlers. They might have lived except a rancher refused to allow rescuers onto his property. The story angered many and raised some questions.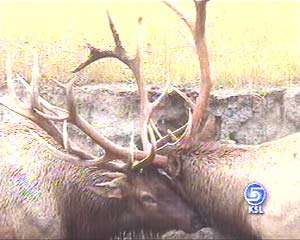 We received numerous calls and e-mail. So did wildlife officials. Most people say the elk should have been saved. But there is a philosphical question: If the elk deaths were caused by nature, should humans have interfered?
Few things get people agitated so much as seeing animals in jeopardy. Whether it's beached whales or struggling deer, humans go to extraordinary lengths to rescue members of another species. That's why it was tough for many people to see the video of two bull elk struggling, and later dying, because a rancher blocked their rescue.
Stephanie Tidwell, Utah Environmental Congress: "It's an emotionally wrenching thing. And for me it's wrong to allow suffering to happen when we can mitigate it."
But Environmentalist Stephanie Tidwell also believes humans should avoid interfering in the processes of nature as much as possible. Nature constantly puts animals in jeopardy; it's part of the daily drama of life and death that makes up a healthy ecosystem.
Stephanie Tidwell: "You have to take each case individually and look to see if, in stepping in, we would cause more harm than good."
In this case, she thinks interfering and rescuing the elk would have caused no harm to the ecosystem.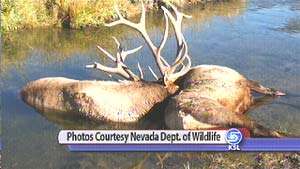 Stephanie Tidwell: "I would not have had a tough time with the decision, no."
Utah wildlife officials have had lots of angry phone calls, even though the elk incident actually took place just across the state line, in Nevada.
Michal Fowlks, Utah Div. of Wildlife Resources: "If this situation had occurred in Utah, our constituency would have wanted us to try to take some action."
Humans constantly interfere with nature anyway. We're building homes and highways in wildlife habitat, we hunt, farm and ranch. Maybe it helps swing the balance in the other direction, to interfere and save a couple of dying elk.
Michal Fowlks: "It is a natural process. But human nature is to do something about it. People want something done about that."
Again today, we tried to get the rancher's side of the story. But he still hasn't returned our calls. Agricultural organizations we contacted are not speaking up in his defense.
×
Most recent Utah stories