Estimated read time: 2-3 minutes
This archived news story is available only for your personal, non-commercial use. Information in the story may be outdated or superseded by additional information. Reading or replaying the story in its archived form does not constitute a republication of the story.
(KSL News/AP) -- An apparent murder-suicide involving a married couple yesterday at a Murray hospital has some calling for increased security at medical facilities.
Police say an elderly man apparently walked into his wife's room at Cottonwood Hospital, shot her point blank and then killed himself.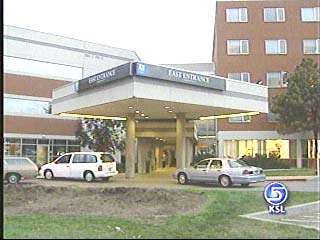 Murray police says it will announce the names, and possible motive during a press conference at three this afternoon.
Crisis counselors are on hand at the hospital today, as patients and workers come to grips with the tragedy.
Jess Gomez/Cottonwood Hospital Spokesperson: "There is a real calmness today. It's a sadness that this patient and her husband died in our hospital under these circumstances. I am not hearing any fear. Just concern, love, and compassion."
Although police will not speculate on a motive, we do know patients on the third floor are treated for acute medical problems.
Dr. George Middleton/ Urologist, Cottonwood Hospital: "It's a general medical floor. We have medical problems, congestive heart failure, infectious disease, a lot of cancer. We don't do surgery there, it's not orthopedics."
Hospital officials say the incident was isolated to the one room and no one else was in danger.
The man had reportedly visited his wife several times in the hospital.
No one heard the shots at the hospital, and the bodies weren't discovered until a hospital worker saw them during a routine check.
Hospital officials say they don't check visitors with metal detectors and it would have been hard for anyone to have noticed that the man had a gun. People can come in and out of the hospital without security checks up until 8 at night.
Security guards walk the grounds and security cameras are rolling, but other than that visitors are free to come and go as they please.
This morning, there's a difference of opinion over whether the security measures are enough.
One doctor who works in the Emergency Room tells us the hospital had considered putting in metal detectors in the past, but just hadn't seen a need to do it. Officials with the hospital say they don't check visitors with metal detectors because it hasn't been necessary, and would take away from the nurturing environment they are looking for.
The hospital spokesman says security procedures here at Cottonwood will be reviewed.
(The Associated Press contributed to this story)
×