Estimated read time: 1-2 minutes
This archived news story is available only for your personal, non-commercial use. Information in the story may be outdated or superseded by additional information. Reading or replaying the story in its archived form does not constitute a republication of the story.
Alex Cabrero ReportingPolice are still looking for the man they say raped a seven-year-old girl. The attack happened exactly a week ago, but so far no arrests have been made.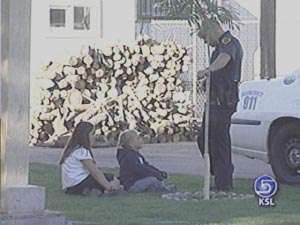 We spoke with the family Friday afternoon and they say this is the worse thing that's ever happened to their family. The seven-year old girl is home now, but you can only imagine how she's doing.
She was taken a week ago while playing outside with her friends. Police say she was only with her kidnapper for less than a half hour, but it is enough damage to scar her the rest of her life.
Detectives say they have been able to collect evidence from the girl, but so far her attacker is still out there somewhere. Today the family is asking for help.
Anthony Colton, Girls Father: "If anybody has any info., this guy needs to be put away so he can't do that again."
Sgt. Fred Louis, Salt Lake City Police Dept.: "Someone out there knows who this is. Someone out there has the key that can help us resolve this case, and we're asking them to come forward and help us."
The car the man was driving is described a late 70's or early 80's muscle type car -- either a Malibu, Chevelle, or Nova. The color is gray or primer gray. It also has black stripes on the bottom of the doors, and custom-made wheels.
The girl has not yet returned to school, but her family says she has been able to start going outside to play again. Still, sadly, this is something that will always be in the back of her mind.
×