Estimated read time: 2-3 minutes
This archived news story is available only for your personal, non-commercial use. Information in the story may be outdated or superseded by additional information. Reading or replaying the story in its archived form does not constitute a republication of the story.
Samantha Hayes reportingSome of the severe and potentially fatal accidents on our interstates occur when a driver crosses the median.
But UDOT is installing new technology that has prevented those kinds of accidents, and in some cases even saved lives.
Crews have installed about 200 miles of it along Utah interstates. If you haven't noticed it before, you will now.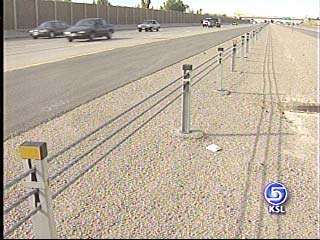 It doesn't look like much. Just three steel cables held up by posts in the median.
But when a car hits it, it keeps the vehicle from crossing into oncoming traffic.
Robert Hull/ Director of Traffic and Safety: "It is proving to be very effective in the short time that we have used it."
The cable median is on 1-15 from west Lehi to SR-92, and from Provo to Pleasant Grove. And along 1-215 from 3100 South to 2700 South.
It's been up since January, and UDOT says drivers have hit it 40 times, with no serious injuries.
Robert Hull: "We have prevented all those vehicles from crossing into the other lane of traffic."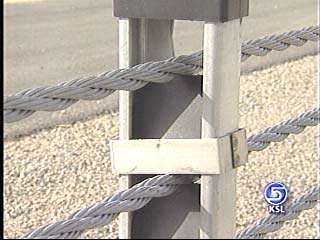 You probably won't notice this driving by, but the steel posts move. They are designed that way for a very good reason.
Robert Hull: "Intended to absorb energy of vehicle as it hits it, give way, and then flex back and allow vehicle not to go back into the lanes."
A concrete wall can bounce a vehicle back into traffic, causing serious injury or death. UDOT says hitting the cable barrier should hold the car in the median.
Robert Hull: "We know there have been people that have not been in serious crashes, serious accidents because of it."
There have been catastrophic crossover accidents before, one on 1-15 just last June that killed a man and seriously injured a newlywed couple.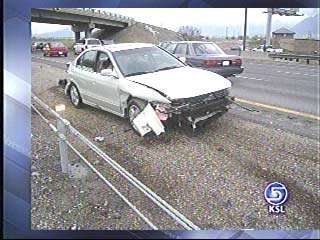 UDOT says the cable barriers will prevent that, and they are less expensive and easier to repair than concrete.
Robert Hull: "Very easy thing to repair. Replace the posts and away we go."
UDOT is very happy with the short-term success of the cables. They say one drawback is that the technology is relatively new, so there's more to learn about it. UDOT is planning to expand the cable on 1-215 and 1-15.
×