Estimated read time: Less than a minute
This archived news story is available only for your personal, non-commercial use. Information in the story may be outdated or superseded by additional information. Reading or replaying the story in its archived form does not constitute a republication of the story.
(KSL News) -- A big disappointment for a Utah County charity when someone breaks into a truck the day before it is to be shipped to Bulgaria.
The 'One Heart' foundation has spent the last year collecting toys, blankets and other supplies for orphans in Bulgaria. And a group of doctors donated expensive heart catheters for hospitals there.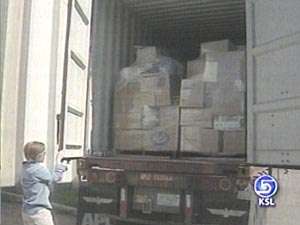 But yesterday, after the truck was loaded, it was discovered someone broke in and stole several of the catheters.
Kelly Anderson , One Heart Foundation: "It really broke our heart that they would take things that they have no value for, and they will probably just end up in a dumpster somewhere. We're trying to get the word out, so anyone who knows where the catheters are, if they would return them to us."
Another charity, Mothers Without Borders, came to the rescue and donated items to take up the space of the stolen goods.
The shipment left today, so it will arrive in Bulgaria in time for Christmas.
×