Estimated read time: 2-3 minutes
This archived news story is available only for your personal, non-commercial use. Information in the story may be outdated or superseded by additional information. Reading or replaying the story in its archived form does not constitute a republication of the story.
Kimberly Houk ReportingA billboard with a very powerful message will soon be going up around Ogden. It's a message that's guaranteed to make drivers stop and think about a hidden problem that is escalating in the area.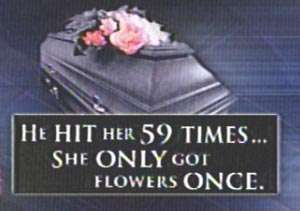 Weber and Davis Counties both won a federal grant, money to be used for educating the public and creating awareness about the state's growing problem with domestic violence.
In the next several weeks, Ogden commuters will encounter a billboard with a disturbing message. It shows a casket with flowers on it and the message reads, "He hit her 59 times... she only got flowers once."
It's a message that resonates with Marie, who narrowly escaped an abusive relationship a year ago.
Marie: "When you are in it, you just wish that you could die."
Rebecca Clements works at a domestic violence shelter in Ogden. This billboard was her idea after hearing from many victims about how flowers follow a beating. But then one lady told her she never got flowers, springing the idea for this billboard.
Rebecca Clements, Your Community Connection: "For a lot of those women, the only flowers they ever get, it will be too late."
Clements hopes the billboards will get people talking about the problem.
Rebecca Clements: "In most states domestic violence homicides account for 10 percent of their homicides per year. In Utah, it's 40 to 50% of all homicides are a woman killed by their intimate partner."
Clements believes that one of the reasons domestic violence may be higher in Utah is women tend to be more determined to keep their families together and wait for things to get better.
Rebecca Clements: "It's all going to change. We're going to stay together. We're going to be the perfect American family."
Over President's Day weekend in February 2003 six women were killed by their partners in northern Utah -- more than in Los Angeles and New York City during that same time. She says until people start to talk more about it, women like Marie will continue to feel isolated.
Marie: "Being alone in a situation like that is one of the scariest feelings that a person has." Victim of Domestic Violence
Three billboards will go up at the beginning of next month and they'll stay up for a full year in Davis and Weber Counties.
×
Most recent Utah stories