Estimated read time: 2-3 minutes
This archived news story is available only for your personal, non-commercial use. Information in the story may be outdated or superseded by additional information. Reading or replaying the story in its archived form does not constitute a republication of the story.
Keith McCord ReportingChalk up another boost to Utah's economy with five new department stores. The Wisconsin-based Kohl's is expanding into Utah. The stores are already open, but the official ribbon cutting ceremonies will take place tomorrow morning.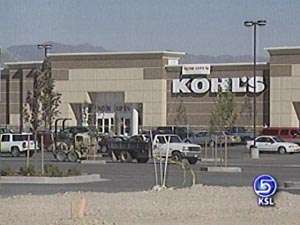 The five stores bring about 1,000 new jobs to start. And with the holiday shopping period getting underway shortly, Kohl's will hire even more people. This has been happening coast-to-coast. They've come to Utah because they like the demographics.
Welcome to Kohl's, the newest player in Utah's department store competition. With the Nordstrom's, Dillard's, Meier & Frank's, Mervyn's, Target's and Wal-Mart's out there, is there room five more? The company says yes, and it's not stopping here.
Mike Watley, Kohl's District Mgr.: "We're opening 42 the same day. Tomorrow grand opening 42 stores across the country and we continue to look to expand."
First thing tomorrow morning, ribbon cutting ceremonies will take place simultaneously here in West Valley, West Jordan, Draper, American Fork and Layton. The five new stores are creating between 800 and 1,000 new jobs.
Ranae Finch, Mgr. Kohl's West Valley: "I know that all of our employees have had a lot of fun. It's fun to watch something grow from the ground up. I mean, this used to be a horse field and nothing was out here."
You won't find Kohl's in a shopping mall; the company builds large, stand-alone facilities. The company says it saves money in overhead costs, which results in lower costs for name brand products.
Mike Watley, Kohl's District Mgr.: "We've found that around the country that people don't want to fight the traffic and fight the crowds, and park, load up the children, and fight their way into a mall."
The Utah stores quietly opened last weekend to give employees a chance to get used to the routine. Today, Kohl's West Valley Manager Ranae Finch and company officials had one last walk-through to make sure everything is in place.
Ranae Finch, Mgr. Kohl's West Valley: "It's been a lot of fun and a huge accomplishment for all of our employees, just to watch it grow from the ground up.
Kohl's has 637 stores in 40 states and wants to open 95 more next year. Will there be more in Utah? Could be, the company says there are some gaps between the five stores from Layton to American Fork.
×
Most recent Utah stories