Estimated read time: 2-3 minutes
This archived news story is available only for your personal, non-commercial use. Information in the story may be outdated or superseded by additional information. Reading or replaying the story in its archived form does not constitute a republication of the story.
Richard Piatt Reporting Among the choices Utah voters will face November second is Initiative One, the so-called 'Open Space Initiative'. A 'yes' vote for initiative one will use sales tax funds to preserve Utah's natural resources. Most people in Utah like the idea, but today the Governor came out against it.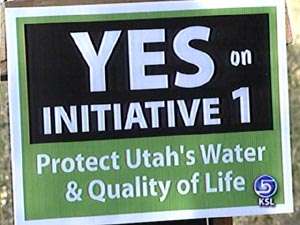 Initiative One is asking voters to okay a tax increase of 1/20 of one cent. It would be used to preserve water resources, wildlife habitat, farms, trails and historical sites and more. And it appears most people feel the price would be worth it.
Of 929 statewide registered voters, 67 percent say they will vote for Initiative One, according to the latest Dan Jones poll for KSL and the Deseret Morning News. 27 percent say they're against it right now, and only six percent are undecided.
The poll is good news for the people who navigated state requirements to get the 130,000 signatures needed to put it on the ballot.
Chuck Wullstein, Water Conservation Expert: "We do need to manage our land and our water, in terms of a worst case scenario, in my opinion."
But there is now a powerful opponent to Initiative One. Governor Olene Walker says she has looked closely, and doesn't like the how the measure would affect the state's budget and tax policy.
Gov. Olene Walker: "Implementation or the consequences of how they've implementation of those ideas are wrong for the future of the state."
Those who support Initiative One are stunned by the Governor's position. They encourage voters to take a closer look at the initiative themselves.
Amanda Smith, Yes On 1 Campaign: "We'd just like to respectfully say she doesn't have her facts quite right. We'd encourage people just as the governor did, to educate themselves."
At the same time Governor Walker is opposing initiative one, the candidates for governor --Huntsman and Matheson-- have each come out in favor of it, each saying the measure is a small price to pay to preserve Utah's resources.
×
Most recent Utah stories