Estimated read time: 1-2 minutes
This archived news story is available only for your personal, non-commercial use. Information in the story may be outdated or superseded by additional information. Reading or replaying the story in its archived form does not constitute a republication of the story.
Alex Cabrero ReportingTo children, a construction site may look like a playground, but adults know how dangerous it can be. Today a dirt wall collapse trapped a child and buried his friend. Fortunately, a neighbor was nearby and dug the two children out.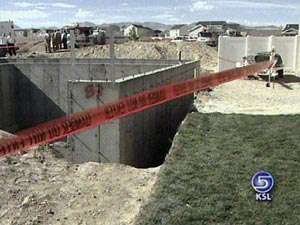 It's a good thing they both weren't buried, otherwise nobody would've heard the one child still above dirt screaming for help.
The two children, nine and 10 years old, were just out playing like any other children their age. Because it was in a relatively new subdivision in South Jordan there are plenty of construction sites, places children think would be fun. But after Daniel and Michael climbed down into a trench of dirt and concrete, the dirt wall collapsed on them. Michael was buried, Daniel was trapped, but he was able to yell for help.
Simona Zajonce, Daniels' Mother: "I keep thinking, what if they both got buried? And who knows how long we would've known that they were buried? If they were both buried, I don't know, I can't even think about that."
The construction site had no protective fence.
Michael was flown the hospital. His family says he has a broken leg, but he should be okay.
×