Estimated read time: 2-3 minutes
This archived news story is available only for your personal, non-commercial use. Information in the story may be outdated or superseded by additional information. Reading or replaying the story in its archived form does not constitute a republication of the story.
Sam Penrod Reporting"Sean Hannity: "The question is, why would Michael Moore go out and try to scare students and lie to students about an issue that ultimately they think would affect their lives? So I'm here to counter that."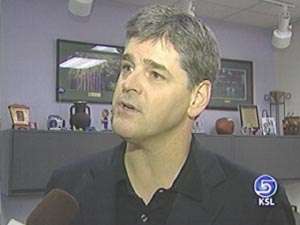 The Sean Hannity versus Michael Moore festival of political rhetoric begins in Utah County tonight -- the conservative Hannity here to pre-empt the liberal Moore, who will be here in nine days.
Hannity is here at the invitation of UVSC in Orem after the school took heat for bringing controversial filmmaker Michael Moore to campus.
Sean Hannity initially offered to debate Michael Moore, something Moore never responded to. And in the next ten days, both the liberal and conservative viewpoints will be heard here at UVSC. But Hannity insists he's not here tonight to bash President Bush's most outspoken critic, but to give what he calls the truth about the upcoming Presidential election.
Sean Hannity took to the airwaves this afternoon from Salt Lake City, telling his nationwide audience why he agreed to speak tonight at UVSC.
Sean Hannity: "I didn't like the fact that he was taking all this money and it appears the students didn't want their funds being spent on Michael Moore, so I offered to do my speech for free."
UVSC is paying Michael Moore a $40,000 speaking fee. UVSC and donors will have to cover Hannity's travel expenses, which is several thousand dollars.
Hannity will speak to a sold-out crowd, who are each paying five dollars to hear him. And there will be tight security at the McKay Events Center for his speech.
Derek Hall, UVSC: "We have magnometers; we're not allowing any bags, purses, backpacks, not allowing signs or banners."
A protest zone is already set up and UVSC is promising the same venue arrangements tonight will be in place for Michael Moore on October 20th.
As for his speech, Hannity says he will educate the audience about what he sees as misinformed views given by Michael Moore.
Sean Hannity: "Michael Moore has been going around the country telling kids in school that if George W. Bush is re-elected there's gonna be a draft that's gonna be re-instated. That's not true."
But Hannity promises that the majority of his speech will discuss the critical issues of the election and not Michael Moore.
As for some protests and rallies against Hannity's visit in recent days, the conservative talk show host says he welcomes opposing views to hear what he has to say.
Sean Hannity: "Even the people who don't like me, come on down. We'll have some fun tonight. We're gonna challenge their belief system and hopefully by the end of the night I'll Hannitize them and they'll vote for George Bush."
If you don't already have a ticket, it's too late; the show is sold out. The doors open at 6:30, and Sean Hannity will take the stage tonight at 8:30.
Michael Moore will appear at UVSC next week; tonight he's speaking in Tucson, Arizona.
×
Most recent Utah stories