Estimated read time: 2-3 minutes
This archived news story is available only for your personal, non-commercial use. Information in the story may be outdated or superseded by additional information. Reading or replaying the story in its archived form does not constitute a republication of the story.
Shelley Osterloh ReportingEvery year thousands of people from throughout the Intermountain West come to Salt Lake City for service and repair on wheelchairs. The IHC Wheelchair Shop is a specialty repair and replacement facility dedicated to improving the lives of those who need help with mobility.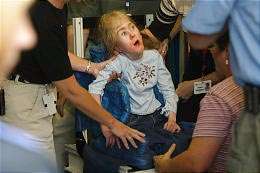 Ten-year old Rachael Merrick and her mother have come to the IHC Wheelchair Shop from Evanston, Wyoming. Rachael has Cerebral Palsy and a brain disorder that make it difficult for her to support herself and sit up. She has grown and is being fitted for a new custom chair, molded to her body.
Sherrie Anderson A.T.P. IHC Wheelchair Shop: "And we suck the air out around her body, get her in the position that she needs to be in, it takes some manipulation of her body, and then we mold everything around her and suck the air out."
Then the form is digitized on the computer and e-mailed to a company that cuts the shape out of a single block of foam. Her mother says this type of custom seat supports her weak muscles and has allowed her to go to school and many other places.
Barb Merrick, Rachael's Mother: "You can't get these services just anywhere, and they've helped us so that we can have, I guess, a normal life. Take Rachael everywhere we go. It makes a big difference for us."
The Wheelchair Shop does repairs, modifications and assembly for more than 6,000 wheelchairs each year. It is a little like an auto repair shop, with five service bays and technicians that work on tires, motors and electronics.
The technology is changing and advancing the way wheelchairs operate. Some can be operated just from a toggle switch and is easy to maneuver. And with a tiny magitech controller, the chairs can be operated by a thumb, shoulder or any part of the body.
Sherrie Anderson A.T.P. IHC Wheelchair Shop: "I actually have a little nine-year old right now that is driving with this now on his head, who is paralyzed from the neck down. It only requires two degrees of movement in any direction to make the chair move."
The cost of a custom fitted manual chair is about $5,000 and power chairs may go up to $30,000, but for those who need them, the comfort and mobility may be priceless.
Children as young as two can be taught to operate a powered wheelchair, but they also come with remote control that a parent can use, just in case you need to stop that toddler from getting into trouble.
×
More stories you may be interested in