Estimated read time: 2-3 minutes
This archived news story is available only for your personal, non-commercial use. Information in the story may be outdated or superseded by additional information. Reading or replaying the story in its archived form does not constitute a republication of the story.
Kimberly Houk ReportingThe Children's Theater of Utah is giving life to the books kids are required to read in school. By acting out the stories, the theater group is working to get kids interested in reading. Elementary school-aged kids find this form of story-telling very entertaining. And many are leaving the performances wanting to read the book the play was based on.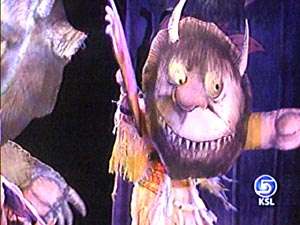 One scene we saw takes place in a little boy's bedroom, a wild imagination brings dancing monsters. A wildly entertaining, highly energetic play that's bringing to life the words on the pages of the book, Where the Wild Things Are, by Maurice Sendak. It's required reading for many elementary students.
Logan Young, Children's Theater: "We feel that children will learn the story a little bit better if it is shown to them instead of told to them. And here we take it a little bit further by putting it on stage and making it live action and a bit more fun."
This production is all about inspiring kids to want to read. It's another way to show them what books can be like if they let their imaginations get carried away.
Madelyn Richardson, Actress: "Now that they've seen the show they're going to want to read the book, so that they can say, 'look I saw that part and that part.'"
Logan Young: "The kids just love seeing some of their favorite characters brought to life."
The plays also have many young actors, students themselves. They also get excited about reading the books and learning more about the characters they bring to life.
Caleb Ceran, 10-year Old Actor: "It's a lot of work. It takes a long time, but it's so much fun."
Logan Young: "I think it does influence them to pick up a reading a little bit more. They can see that the book is a little more. They can see that the book is not quite what they expected or it's better than they ever thought it could be."
How does the Children's Theater decides which books to turn into performances? They ask elementary schools which books are required reading and they also choose books that they loved to read as children.
×