Estimated read time: 2-3 minutes
This archived news story is available only for your personal, non-commercial use. Information in the story may be outdated or superseded by additional information. Reading or replaying the story in its archived form does not constitute a republication of the story.
Ed Yeates Reporting"Right at that point I thought I was living in some kind of twilight zone, it was so unreal to me."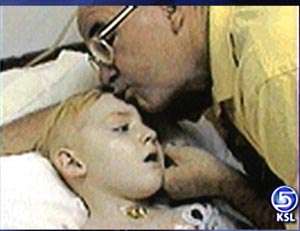 It was a tragic confrontation today at Primary Children's Medical Center between the parents of a six-year old boy who claimed their son was alive and doctors who had declared him dead.
It's not an easy situation for anyone -- a six-year old boy with brain cancer. Doctors at Primary say he's gone. The child's family maintains there's still hope. The struggle is taking a legal turn.
This is really a story of a dad and mom's undying love for their child -- so much so they tried legally to stop doctors from disconnecting their son from life support, even though he was declared dead.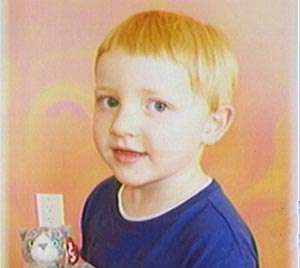 Steve Koochin, Jesse's Father: "Against all medical advice, against all medical indications, we performed a miracle and I don't see why we can't do that again."
Another miracle. That's what Steve Koochin wanted for his six-year old son whose been battling brain cancer for the past six months. It happened in Mexico where they took young Jesse for some alternative care, which they say miraculously brought their son out of a coma.
The Koochin's have been doing everything they can to save Jesse's life. From their hometown in Clearwater, Florida they've taken him from doctor to doctor -- to chiropractors, to practitioners of holistic medicine, and finally here, his final destination at Primary Children's Hospital.
But yesterday doctors declared Jesse brain dead, telling the family they would remove life support this afternoon. Steven Koochin said that final word was like going into the twilight zone.
Steve Koochin: "I do not believe in my heart that it is the correct and godly thing that was adjudicated."
Though the family has contested it, doctors here say the pronouncement of death was more than evident.
Chris Maloney, MD, Assoc. Medica Dir., Primary Children's Medical Ctr.: "The cancer was very far advanced and in the three weeks that he has been here at Primary Children's it has tripled in size. It got so big that on Sunday it pushed the brain stem down through the base of the skull, which prevented the blood from going up into the brain."
When doctors say that death was very pronounced, it means there was some decomposition that was occurring. It's not externally, where you could see it, but internally, in the liquification of some portions of the brain and the decomposition of some organs.
So, as far as the hospital is concerned, young Jesse is declared dead.
His family has hired an attorney. There has been an injunction filed to stop any action by doctors to pull life support from Jesse. So it looks like this matter may end up going to court.
×
Most recent Utah stories