Estimated read time: 1-2 minutes
This archived news story is available only for your personal, non-commercial use. Information in the story may be outdated or superseded by additional information. Reading or replaying the story in its archived form does not constitute a republication of the story.
John Hollenhorst ReportingYoung Jesse Koochin moved both feet last night. At least that's what his father says, following the boy's highly-publicized removal from the hospital where doctors declared him brain-dead.
It's clear Jesse's parents are not willing to give up hope in this heart-wrenching case. They will not accept experts' opinion the six-year old is already dead.
The boy has been in private care at an apartment since Friday when his family had him moved from Primary Children's Hospital. Earlier, they won a court order forbidding the hospital to shut off the ventilator machine that keeps his body breathing.
Jessie's father called a news conference at a park in Olympus Hills today. He says Jesse's condition is stable, and he moved both feet when his mother touched his toes in a certain way.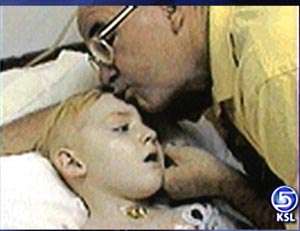 Steve Koochin, Jesse's Father: "And that's a new thing that occurred just last night, and I was elated. Last night you could put your fingers on my son's temple and you could feel every heartbeat. That little heart is strong. That little heart is pumping and it's pushing and it's trying."
But Koochin says it's a crucial time and he hopes people will pray for his son. He admits it could go either way in the next few days.
Koochin says Medicaid continues to cover some of the ongoing expenses, even though doctors consider Jesse to be dead already. Koochin is highly critical of the doctors who treated his son, but when asked if he's considering a lawsuit, he didn't directly answer.
×
Most recent Utah stories