Estimated read time: 2-3 minutes
This archived news story is available only for your personal, non-commercial use. Information in the story may be outdated or superseded by additional information. Reading or replaying the story in its archived form does not constitute a republication of the story.
Ed Yeates ReportingThere was good reason why concrete trucks were all over the place, driving through the night in Murray. The state's largest construction project underway right now needed thousands of cubic yards of the stuff, all at one time.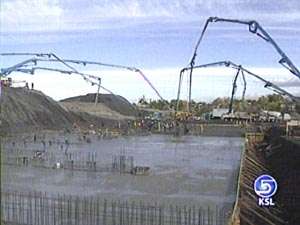 After more than fifteen hours of a continuous pour more than 8,000 cubic yards of concrete are now in place there to mark the beginning of a $362-million hospital campus.
While we were all in bed last night one truck every minute was arriving there, delivering 60O cubic yards of concrete every hour. Looking like gigantic spider legs, concrete pumpers pumped the cargo from the trucks through the night until after 2:00 this afternoon. On the foundation will rest the main in-patient critical care patient tower for IHC's new five hospital campus.
Gary Pehrson, IHC Regional V.P.: "Large medical campus. It will stand out from the freeway. You will be able to see the tower. This will, in my opinion, change the face of health care facilities in this area."
Surrounding the 15 story Trauma One center will be a heart and lung hospital, a women's and newborn hospital, an outpatient diagnostics hospital, and a cancer treatment hospital. So, embedded in concrete there, is 650 tons of rebar, ready to support one of the most advanced high tech hospitals.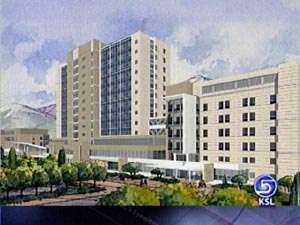 But even more - the building itself will be earthquake resistant, using a new framing and replaceable bracing technique that keeps floors from buckling. You won't have to evacuate the hospital in an earthquake.
Fred Strasser, Oakland Construction Project Manager: "After a seismic event your building is still operational. And you just have to go in and replace these braces. And so you can continue to operate."
There's something else unique about the site. The foundations for all the hospitals will sit on slag from the old Murray Smelter that was once there. All this slag actually has more weight bearing strength than if the foundations sat directly on soil.
Completion for this medical city – 2007.
×